Evening School Sem 2
Three philosophy courses taught in Melbourne Aug - Nov 2017.
The Melbourne School of Continental Philosophy is proud to present the Evening School Semester 2 2017 curriculum. As always significant discounts apply for those enrolling in multiple courses. If you have any questions which aren't in our FAQs please email This email address is being protected from spambots. You need JavaScript enabled to view it.. All courses are available for distance enrolment, you can register for a mix of distance and attendance using the same form.
When: 15 Aug - 9 Nov, 2017
Where: Kathleen Syme Centre, Carlton & 1888 Building, UniMelb.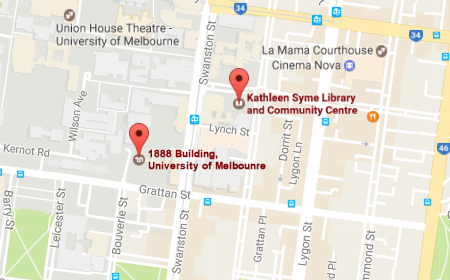 Show Kathleen Syme Centre in Google Maps
Fees:
| | | |
| --- | --- | --- |
| Courses | Waged | Unwaged |
| Modern Poetry II | $180 | $120 |
| Wittgenstein OR Stiegler | $225 | $150 |
| 2 courses | $270 | $180 |
| All courses | $300 | $200 |
Enrol Now

You can now enrol for both attendance and distance subjects in the same enrolment!
Evening School Programme
Each course runs 2 hours per week
Tues 6.30-8.30pm
Starting 15 Aug
Bernard Stiegler: An Introduction
Lecturer: Dr Daniel Ross
Wed 6.30-8.30pm
Starting 16 Aug
Modern Poetry II
Lecturer: Dr Mark Hewson
Thur 6.30-8.30pm
Starting 17 Aug
Wittgenstein's Philosophies
Lecturer: Dr David Rathbone
Course Descriptions
Courses 'Bernard Stiegler' and 'Wittgenstein's Philosophies' both run 12 weeks. Course 'Modern Poetry II' runs for 8 weeks. See descriptions below for full date schedule.
---
Bernard Stiegler: An Introduction
Lecturer: Dr Daniel Ross
Schedule: 12 Tuesdays 6.30-8.30pm. Aug 15, 22, 29, Sept 5 (7-9pm), 12, 19, (Sept 26 Break), Oct 3, 10, 17, 24, 31, Nov 7
Location: Kathleen Syme Centre, 251 Faraday St, Carlton (See board for room details)
With his first book, Technics and Time, 1: The Fault of Epimetheus (originally published in 1994), French philosopher Bernard Stiegler announced the grand scale of his ambitions by echoing the title of Martin Heidegger's magnum opus. This volume staged an encounter with, and offered a critique of, Heidegger's account of temporality, but also Derrida's fundamental notion of différance, the philosophies of technology of Gilbert Simondon and Bertrand Gille, the account of the exteriorization of memory elaborated by André Leroi-Gourhan, and the myth of Prometheus and Epimtheus. With this volume, Stiegler set up a powerful and original account of the history of Western thought as founded on a repression: not of being, but of 'technics'.
Technics and Time, 1 remains Stiegler's best known work, yet in the 23 years since he has published more than thirty books: in addition to the second and third volumes of Technics and Time (respectively developing a profound rereading of Husserl and an account of the 'cinematic construction of consciousness'), Stiegler has pursued his 'pharmacological' understanding of the relationship of technics and desire, in order to undertake a highly original political and cultural critique of the basis and fate of consumerist capitalism. Stiegler's concern with the relationship between the libidinal economy and the productive economy has resulted in a powerful account of 'proletarianization' as the exhaustion of desire and destruction of intergenerational knowledge and relations that occurred throughout the twentieth century, continuing in the twenty-first via an attack on 'reason' (understood in all its senses) as such. This has led him to reflect, in particular, on the toxic and curative potential contained in the so-called 'digital turn'. Most recently, he has turned towards the questions of automation, environmental destruction and the nihilism of contemporary politics, re-inscribing his entire philosophical apparatus into new terms and values, founded on a rereading of the concepts of entropy, anthropology and Anthropocene, asking under what conditions we can imagine, and invent, a way out of the current destructive path.
Stiegler's work can be daunting, both because he assumes understanding of a large set of philosophical and other texts, and because his own monumental theoretical edifice can seem difficult to penetrate. Yet once the keys to this construction are supplied, the contours and spirals of his thought can be opened up to reveal a pathway towards addressing the profound questions and problems of contemporary existence that are today almost universally suffered and felt, if often in the mode of denial. This lecture series will provide those keys in a rigorous yet accessible way, making the shape of Stiegler's thought comprehensible in a manner that will be of interest to students of philosophy and 'theory', but also to all those engaged with questions of technology, art, politics and culture, and with the nexus of questions surrounding climate change, technological change and the current turn to populism in the age of 'post-truth'.
Lecture plan:
Introduction to the thinker: composing Stiegler's singular path of care
The way in: Epimetheus, exteriorization and différance
The individuation of Dasein: rereading Simondon and Heidegger
From Simondon to Cleisthenes: individuation and adoption
Three kinds of souls and the question of consistence
From Socrates to Marx: the pharmakon and proletarianization
From Husserl to cinema: retention and protention
From Freud to Marcuse: desublimation and TV
From the conservative revolution to the digital turn
Automatic society: the meaning and fate of work
Neganthropy: towards a speculative cosmology
Beyond the Trumpocene and concluding remarks
---
Modern Poetry II
Lecturer: Dr Mark Hewson
Schedule: 8 Wednesdays 6.30-8.30pm. Aug 16, 23, 30, Sept 6, 13, 20, (Sept 27 Break), Oct 4, 11
Location: Foundation Life Members' Room, 1888 Building, Grattan St, University of Melbourne, Parkvillle.
This course will study a series of key figures in modern poetry: Nerval, Baudelaire, Rimbaud, Mallarmé, Yeats, Pound, Dickinson, and it will closely study poems selected from each of these poets, along with critical writings in which poets reflect on their own practice and on that of their contemporaries.
The guiding assumption of the course will be that modern poetry is an international phenomenon (comparable to "modern art"), and is based on a perception of a shift in the meaning and status of poetry. For this reason, historical reflection upon the phenomenon needs to develop its own concepts and methods, and these will have to be distinct from those employed in the literary history of particular national traditions. The course will give attention to some poets and critics who have made a start on this problem. In order to understand what is at stake in the conjunction of the modern and the poetic, the course will draw upon philosophical and social-scientific discussions of the concept of modernity.
Students registering in the course are requested to read Gérard de Nerval's story, Sylvie, prior to the first lecture, as preparation. It is freely available in an out-of-copyright version at the Internet Archive (https://archive.org/details/sylviesouvenirs00nervgoog)
Course Schedule
1. Introduction: the historical status of "modern poetry".
Gérard de Nerval. Sylvie. Poems: "El Desdichado", "Delfica", "Artemis".
2. Charles Baudelaire. "Crepuscule of the evening" (the prose poem and the poem of the same name). "Harmony of the evening". "The Swan".
Prose poems by Baudelaire: "The Eyes of the Poor": "The Widows".
3. Arthur Rimbaud. A Season in Hell (focussing on the last sections, especially "The Impossible", "Morning" and "Adieu")
4. Stéphane Mallarmé, "Crisis of Verse", "Restrained Action", "Displays", "The Book: Spiritual Instrument" (three pieces of poetic prose making up the section of Divagations entitled "As for the Book").
5. W.B. Yeats, "The Song of the Happy Shepherd", "The Man who Dreamed of Faeryland", "The Wild Swans at Coole", "Among School Children", "A Dialogue of Self and Soul", "Vacillation".
6. Ezra Pound, "The Return", "The River Merchant's Wife", "Hugh Selwyn Mauberly", essays from Make it New. T.E. Hulme, writings from Speculations, T.S. Eliot, Selected Essays 1917-1932, selected poems from Eliot's first two collections, Prufrock and other observations (1917) and Poems (1920).
7. Emily Dickinson, selected poems. Wallace Stevens, selected poems.
8. The last week is left open, on the assumption that the course may fall behind its ambitious schedule. Depending on class interests, it could be used for additional English and American poems, the emergence of surrealism in France, or a first approach to some modern German poetry (Rilke, Celan).
Critical texts:
Walter Benjamin, "On some motifs in Baudelaire"
Paul Valéry, "The place of Baudelaire", "Stéphane Mallarmé".
Jean-Paul Sartre, What is Literature, Baudelaire.
Maurice Blanchot, essays from Faux pas, The work of fire, The space of literature.
Paul de Man, "Lyric and Modernity"
---
Wittgenstein's Philosophies
Lecturer: Dr David Rathbone
Schedule: 12 Thursdays 6.30-8.30pm. Aug 17, 24, 31, Sept 7, 14, 21, (Sept 28 Break), Oct 5, 12, 19, 26, Nov 2, 9
Location: Kathleen Syme Centre, 251 Faraday St, Carlton. (See board for room details)
We will begin by looking at Wittgenstein's first book, The Proposition (later re-named the Tractatus Logico-Philosphicus by G.E.Moore), until we can see its significance i.e. both its sense and its meaning. Thinking about the limitations of its significance will then lead us on to entertain the thought that the difference between sense and meaning might be neither the only, nor even the most relevant way to think about language. Finding new ways to think about the relevance of other distinctions, such as the difference between saying and showing, will lead us directly into the heart of the so-called "private language argument" of the Philosophical Investigations, with its abolition of the inner world, its attack on abstraction in favour of the concrete, its reversal of the priority between logic and grammar, and its insight that the actual is intelligible only in terms of the possible.

Note on texts.
Texts of central readings will be provided in each lecture.
They will be extracted from the following publications:

1. Early:
Tractatus Logico-Philosphicus, (either tr by Ogden, or by Pears & McGuinness) (an abridgment of this work will be handed out in the first class)
Letters to C.K.Ogden.
1914-16 Notebooks.
2. Transitional:
Philosophical Grammar
The Blue and Brown Books
Philosophical Remarks
Lectures and Conversations on Aesthetics, Psychology and Religious Belief
Remarks on the Foundations of Mathematics
3. Late:
Philosophical Investigations
Zettle (two editions)
On Certainty
Culture and Value
Remarks On Colour