Winter School 2018
Eight philosophy short-courses taught in Melbourne June - July.
The Melbourne School of Continental Philosophy is proud to present the Winter School 2018 curriculum. All courses are 10 hours in length. As always significant discounts apply for those enrolling in multiple courses. If you have any questions which aren't in our FAQs please email This email address is being protected from spambots. You need JavaScript enabled to view it..
When: 11 June - 20 July, 2018
Where: Church of All Nations (CAN), 180 Palmerston st, Carlton. There will be MSCP signage at CAN. Note: Disabled access is via the rear of the building which will also have MSCP signage.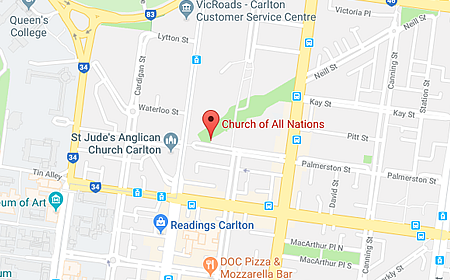 Show the Church of All Nations in Google Maps
Fees:
| | | |
| --- | --- | --- |
| Courses | Waged | Unwaged |
| 1 | $120 | $80 |
| 2 | $180 | $120 |
| 3 | $210 | $140 |
| 4+ | $240 | $160 |
Enrol Now

The enrolment form includes both attendance and distance enrolment options. Distance Enrolment is available for all courses.
Winter School Programme
2 hours per week for 5 weeks
2 hours per day for 5 days
Course Descriptions
---
Poetry and Philosophy: From Plato and Homer to Heidegger and Celan
Lecturer: Dr Desmonda Lawrence
Schedule: 6.30-8.30pm. 5 Mondays starting June 11
Location: CAN, 180 Palmerston St, Carlton.
Plato famously claimed there was an ancient quarrel between philosophy and poetry and declared the poets ought to be cast out of the republic of philosophy. In this course we will look at different aspects of the often-troubled relation between the discourses of poetry and philosophy, starting with an analysis of Plato's censure of poetry in The Republic and Aristotle's defence of it in The Poetics. We then turn to Immanuel Kant's Critique of Judgement to look at poetry's place in philosophical aesthetics. The final two lectures will take up the question of what sort of discourse poetry is and how it relates to philosophy in two contemporary juxtapositions: through Heidegger's question 'what are poets for?' examining the different sorts of answers that emerge from the poetry of Paul Celan, as well as the views of Czeslaw Milosz on the difficulties of Modernism, and Alain Badiou's reply.
Course Schedule
Lecture 1 will be a general introduction to 'aesthetics of poetry' and a reading of Plato's arguments against poetry in Books IV and X of The Republic, analysing Plato's complaints censure of poetry, and why Plato sees no place in the ideal republic for poets – especially given his own status as a poet and his professed love of poetry.
Lecture 2 will look at Aristotle's reply to Plato, often considered to be a defence of poetry, in The Poetics. These two first lectures will introduce some categories in which philosophy has tended to inscribe poetry, such as mimesis, and introduce more generally early forms of literary criticism.
Lecture 3 will cover the development of philosophical aesthetics in Kant's Critique of Aesthetic Judgement, and also touch on Romanticism in philosophy and in poetry.
Lecture 4 will look at Heidegger's writings on literature and art in his collection Poetry, Language, Thought, in particular the essay (and question) 'What are Poets For?' in the light of (or perhaps it would be better to say in the shadow of) the post-holocaust poetry of Paul Celan.
Lecture 5 will consider some of the particular difficulties – in interpretation and criticism – of modern poetry (that is, poetry of Modernism) in terms of the exchange between Polish poet Cezlaw Milosz and Alain Badoiu.
Texts
Plato, The Republic.
Aristotle, The Poetics.
Immanuel Kant, Critique of Aesthetic Judgement.
Martin Heidegger, 'What are Poets For?' in Poetry, Language, Thought.
Paul Celan, Selections, (ED. Pierre Joris).
Czeslaw Milosz, The Witness of Poetry.
Alain Badoiu, 'A French Philosopher Responds to a Polish Poet' in Handbook of Inaesthetics.
---
Dostoevsky and Roberto Mangabeira Unger: An Approach to Time
Lecturer: Dr Millicent Vladiv-Glover
Schedule: 6.30-8.30pm. 5 Tuesdays starting June 12
Location: CAN, 180 Palmerston St, Carlton.
In this short course, I will deal with two books: Dostoevsky's last novel, The Brothers Karamazov (1881) and Roberto Unger's recent monograph, The Religion of the Future (Massachusetts: Harvard UP, 2014).
The reason I have chosen to confront Dostoevsky and Unger is because the 19th century Russian writer and the 21st century Brazilian philosopher-sociologist and politician (who is professor at the Harvard Law School) share certain micro- themes, which all converge into a macro-theme: this is the theme of the religious feeling of modern (and pre-modern ) European culture. This macro-theme of religiosity of modern European culture is connected to the question of ethics. Dostoevsky and Unger approach the question of ethics through their respective discourses: Dostoevsky approaches ethics through the medium of aesthetics. Unger approaches ethics through a sociological analysis of religiosity. Despite some overlaps, the answer each of these writers offers is different, in substance and in form. The difference in the two methodological approaches to the question of time – the aesthetic-philosophical and the sociological – will lead to an insight about the quality of the ethical value which either methodology is able to yield.
The question of ethics is connected for both writers to the question of time. Dostoevsky treats time in the context of the temporality – plot structure – of his novel. Unger treats time as a discursive category, against the background of subjective experience. While experience is a phenomenological category, Unger is not a phenomenologist. Dostoevsky's epistemology, on the other hand, is grounded in phenomenology. Despite his personal dislike for Hegel, Dostoevsky's novels resonate with Hegel's phenomenology of spirit. This will be shown, in particular, with respect to a reading of parts of The Brothers Karamazov through the Master/Slave dialectic and section "Consciousness" (The 'This" and 'Meinen').
Course Schedule
Seminar I: A critique of Unger's sociology of time.
Seminar II: Dostoevsky as a Man of His Time: Note to Vremya (1860) and the "Russian Idea"
Seminar III: Temporality in Fiction (Kata Hamburger) and in Dostoevsky's novels (Bakhtin)
Seminar IV: Temporality in Dostoevsky's The Brothers Karamazov: Alyosha's Plot Day
Seminar V: Dostoevsky and Hegel: The 'Masters' and 'Servants' in The Brothers Karamazov
Texts
Bakhtin, M. M. Problems of Dostoyevsky's Poetics. Ed. Caryl Emerson, intro. Wayne C. Booth. U of Minnesota Press: 1984.
Dostoevsky, F. M. The Brothers Karamazov (1881) Penguin Classics. Trans. David Magarshack (1958, 1964)
Hegel, G. W. F. Phenomenology of Spirit. Trans. A V Miller , with Analysis of the Text and Foreword by J N Findlay. Oxford, New York, Toronto, Melbourne, 1977. P. 105. (Paragraph 167: "B. Self-Consciousness, IV. The Truth of Self-Certainty).
Vladiv-Glover, S. (1993), "Dostoevsky, Freud and Parricide: Deconstructive Notes on the Brothers Karamazov," New Zealand Slavonic Journal (1993): 7-34. (Invited paper to open new series of journal.) pdf supplied
Unger, Roberto Mangabeira The Religion of the Future (Massachusetts: Harvard UP, 2014).
---
An Introduction to Philosophical Hermeneutics

Lecturer: Dr Mammad Aidani
Schedule: 6.30-8.30pm. 5 Wednesdays starting June 13
Location: CAN, 180 Palmerston St, Carlton.
Hermeneutics is concerned with 'understanding'. Hermeneutics as a practice is universally recognised as the art and science of textual analysis and interpretation. In the traditional sense, hermeneutics is the systematic study and interpretation of written texts, especially religious, legal and literary ones. Modern hermeneutics embraces everything in the interpretative process from verbal and nonverbal forms of communication to other factors that influence communication, such as presuppositions, pre-understandings, perceived meanings and the philosophies of religion, language, culture, arts, sign and mind. In the past, the terms 'exegesis' and 'hermeneutics' were used interchangeably. However, hermeneutics is now a more widely defined discipline of interpretative theory, including the entire framework of the interpretive process. Exegesis, on the other hand, focuses only on the written text.
The Aim
The aim of this short course is to focus primarily on this modern theory of knowledge as initiated by Martin Heidegger in the 20th century and further developed by Hans-Georg Gadamer in his seminal book Truth and Method, while also taking up the theories of Paul Ricoeur and others significant hermeneuticians. The course will also investigate and explicate the essential ideas of the key early thinkers of hermeneutics such as Friedrick Schleiermacher and Wilhelm Dilthey whose ideas greatly influenced Martin Heidegger and other Hermeneutics' philosophers to set the ground for a close analysis of the ideas of these key modern thinkers in the field of philosophical hermeneutics.
The course will primarily focus on the key concepts of these philosophers to introduce the students to this significant and influential brand of continental philosophy.
Course Schedule
Week 1: What is Hermeneutics?
General Introduction to Hermeneutics and its keys modern philosophers
Week 2: Friedrich Schleiermacher
This presentation discusses Schleiermacher's principal ideas on reading, comparative and divinatory, the process of interpreting, language, understanding, creative process, grammatical and psychological interpretation and hermeneutic circle.
Week 3: Wilhelm Dilthey
Introducing Dilthey's key concepts such as his methodology of using hermeneutics understanding in the human science, acculturation, inner meaning, understanding foreign cultures and people as well as hermeneutics as the science of understanding written monuments.
Week 4: Martin Heidegger
Discussing concepts of understating, facticity, Dasein, being- in -the- world, phenomenological hermeneutics, fore- structures of understanding, care and anxiety.
Week 5: Hans–Georg Gadamer
Examining his theory of understanding as dialogue, hermeneutic and the effect of history, prejudices, tradition, interpretation and how the interpreter applies the text to her or his situation for understanding what the text has to say and the fusion of horizons.
Week 6: Concluding Remarks and Discussion.
Recommended Reading
Richard E. Palmer (1969) Hermeneutics: Interpretation Theory in Schleiermacher, Dilthey, Heidegger, and Gadamer. Evanston, IL: North-western University Press.
This is a useful initial English Language introduction, particularly with reference to literary interpretation.
Rudolf A. Makkreel (1975) Dilthey Philosopher of the Human Studies. Princeton, N: Princeton University Press.
This is an advanced book that emphasizes the importance Dilthey's psychology and aesthetic on his theory of understanding, with brief comparisons to Husserl and Heidegger.
Kathryn Plant (2003) The Philosophy of Gadamer(trans.) Chesham: Acumen.
This book is a significant and readable introduction to Gadamer's thoughts and analysis of Truth and Method.
Level: Intermediary / advanced.
---
Bataille, Aesthetics, Erotics, and the Real
Lecturer: Dr Tim Themi
Schedule: 6.30-8.30pm. 5 Thursdays starting June 14
Location: CAN, 180 Palmerston St, Carlton.
These lectures explore the development of Bataille's interventions into aesthetics and his linking of it to an erotics and a heterogenous real. We introduce his definitive philosophical texts and examine them alongside his commentaries on various artistic works––including his own––from dissident surrealism to the cave paintings of Lascaux. The aim will be to theorise a possible criterion for aesthetics based on Bataille's many fascinating oeuvres in it as both a creative artist and a rigorous scholar.
Course Schedule
1. Genealogy of Erotics through Taboo & Transgression
This lecture explores the history of the taboo-transgression relation outlined in Bataille's culminating works. It documents our shifting structures of jouissance, or enjoyment of transgression, through four historical epochs: the initial Palaeolithic transition from animal to human, the flourishing of the archaic-classical Greek, and the eventual condescension of the Christian and the modern. We enumerate the consequences of these shifts for an ethics, erotics, and aesthetics, and look at one of Bataille's novellas and his commentary on it as an analytical example. Readings discussed include Bataille's Madame Edwarda (1941); The Accursed Share Vol II: History of Eroticism (1950); "Preface to 'Madame Edwarda' (1956)"; Eroticism (1957); and The Tears of Eros (1961).
2. Psychoanalysis, Formal Linguistics, & Story of the Eye
With a basic framework of Bataille's thought established, this lecture returns to Bataille's initial and most famous literary work, the surrealist Story of the Eye of the late 1920s. We explore its later discussion from a linguistics perspective by Roland Barthes, but also from a psychoanalytic perspective by Bataille himself making use of his sessions with Adrien Borel, the analyst he sought treatment from in the same period. Lacan's formal interventions into psychoanalysis and Bataille's later writings on De Sade are also used to frame the violence of the text. Readings include Bataille's Story of the Eye (1928); "W.C. Preface to Story of the Eye from Le Petit (1943);" "De Sade's Sovereign/Normal Man" (1957)"; Lacan's "Instance of the Letter in the Unconscious or Reason since Freud (1957)"; Barthes' "Metaphor of the Eye (1963)"; and Lacan's Seminar XI, Fundamental Concepts of Psychoanalysis (1964).
3. Dissident Surrealism, Lascaux Caves, & Nietzsche's Accursed Sovereignty
Heading into 1930, this lecture explores Bataille's editorship of the art journal Documents which gathers all the surrealists with whom surrealist founder, André Breton, had fallen out. We examine Bataille's reputed transformation of the question of aesthetics from this polemical period, and contextualise its critique of beauty and the high-low distinction in terms of his later captivation with Palaeolithic art. We also situate Bataille's critique in light of earlier interventions into aesthetics made by Nietzsche, whose life for Bataille attains an accursed sovereignty itself akin to a great work. Readings include Bataille's "Big Toe," "Formless," "Rotten Sun," "The Language of Flowers" and "Base Materialism," in Documents (1929-31); On Nietzsche (1945); Accursed Share, Vol III: Sovereignty (1953); Lascaux, or the Birth of Art (1955); and The Cradle of Humanity: Pre-historic Art and Culture (2009).
4. Positive Surrealism, Modernism, & Nietzsche's Affirming Psychoanalysis
This lecture considers Bataille's positive reappraisal of surrealism after the war by linking its techniques of free-association to the modernist concern for the new. We explore the continuities and discontinuities between Nietzsche and Freud at the interface of philosophy with the birth of psychoanalysis, both of whom exerted a profound influence on the cultural modernism of which Bataille and surrealism were part. We consider how Bataille's emphasis on Nietzsche enables a space for a more affirming psychoanalysis, which can naturally flow on to stabilise a more positive criterion for a new aesthetics. Readings include Bataille's "On the Subject of Slumbers (1946)"; "The Absence of Myth (1947)"; "Notes on the Publishing of 'Un Cadavre (1947-)'"; "The Surrealist Religion (1948)"; "Surrealism and How It Differs from Existentialism (1948)"; and Paul-Laurent Assoun's Freud and Nietzsche (1980).
5. Literature, Poetry, Promises of Happiness & Evil
The course concludes with Bataille's mature reflections on literature, many of them published in the scholarly journal Critique he edited after the war until his death in 1962. Bataille's final formulation of the taboo-transgression relation, linked to two very different promises of happiness and a complicity with evil––particularly in poetic literature––will be found as central to his vision for the arts as a whole. Lacan's epistemic triad of the symbolic, the imaginary, and the real will also be adopted to augment Bataille's placing of art as separately included in the world as happily heterogenous. Readings include Bataille's "André Masson" (1946); "From the Stone Age to Jacques Prévert (1946)"; "Happiness, Eroticism, and Literature (1949)"; "René Char and the Force of Poetry (1953)"; "Emily Brontë" and "William Blake," in Literature and Evil (1957); and Lacan's Seminar XXIII, The Sinthome (1976).
Primary literature: Several of Bataille's contributions to the Documents journal are in Visions of Excess: Selected Writings (1927-39). Many of his post-war articles on literature are in The Absence of Myth: Writings on Surrealism. Bataille's other primary texts are readily available from the usual outlets, with his 1957 Eroticism forming the most accessible summation of his key themes.
Secondary literature: Mark Hewson, Marcus Coelen, eds., Georges Bataille: Key Concepts (2016). Tim Themi, "Bataille and the Erotics of the Real," Parrhesia: Journal of Critical Philosophy 24 (2015): 312-35 (open access, https://parrhesiajournal.org/parrhesia24/parrhesia24_themi.pdf)
Level of Difficulty: Introductory/Intermediate
---
A Show About Nothingness: Episodes From Jean-Paul Sartre's Being and Nothingness
Lecturers: Dr Robert Boncardo and Steven Churchill
Schedule: 10am -12noon. Monday, July 16 – Friday, July 20
Location: CAN, 180 Palmerston St, Carlton.
When Jean-Paul Sartre's Being and Nothingness was first published in 1943, some Parisian shopkeepers took to using the hefty tome as a means of weighting their fruit scales. Later, former French president Valéry Giscard d'Estaing would praise the book for its uncanny ability to send him straight to sleep at night. But a closer look at this ostensibly dense philosophical masterpiece reveals a cast of weird and wonderful characters caught up in vividly filmic situations that could have come straight from the script of a sit-com or a soap-opera. In this course, students will be introduced to Being and Nothingness as a series of 'episodes' at once disturbing and hilarious, tragic and heartening. Each 'episode' will present a key philosophical theme — from negation to temporality, bad faith to existential psychoanalysis — and will interweave Sartre's phenomenological descriptions of everyday scenarios with an account of the conceptual architecture that gives them meaning. Over the course of the five days, students will also progressively become acquainted with Sartre's most cherished theme — freedom — and will ideally leave the course with a sense of what Sartre means when he says, infamously, that each of us is 'condemned to be free'.
Course Schedule
Each lecture or 'episode' is divided into two halves, with Robert taking the first and Steven the second, including dialogue between them but also discussion with the audience.
Episode 1, Part 1: Nausea, Roquentin and the Tree Root: Being-in-Itself
Being and Nothingness begins with the following insight: if anything at all exists, then it is because we, as conscious subjects, are conscious of something existing. Yet originally this 'something' is not a thing that we know anything about; it is not an object we can domesticate both intellectually and practically. Rather, it is something we encounter. This 'something' is what Sartre calls being-in-itself, and it constitutes one the two most fundamental categories of his ontology in Being and Nothingness. In this first 'episode', we will introduce this existential encounter with being-in-itself through the story of Sartre's most famous protagonist: Roquentin, the anti-hero of his first novel Nausea, whose meeting with a tree root in a public park marks the start of a unique philosophical adventure…
Episode 1, Part 2: A Broken-Down Car, A Café, Euclidean Geometry: Being-For-Itself
For Sartre, if consciousness is consciousness of something, then considered all on its own consciousness is strictly speaking nothing. Everything is outside of it. Indeed, Sartre shows that if there are species of nothingness in the world at all — from absences to obstacles, failures to flaws — then it is because we, as consciousnesses qua 'nothing', effectively bring them in to the world. Sartre develops this insight through a series of striking examples, including his famous analysis of his friend Pierre's absence from a rendezvous at a Parisian café and an account of his car breaking down. Yet Sartre also shows that such technical domains as geometry similarly require his concept of nothingness. In this second part, we discover through these examples how Sartre understands consciousness as nothingness and how he conceives of it as the infinitely fragile condition of possibility for the existence of any world whatsoever.
Episode 2, Part 1: The Woman, the Waiter, the Homosexual: Bad Faith
This first part of the second 'episode' will take up three of Being and Nothingness' most well-known examples, along with what is perhaps its most popular — albeit misunderstood — concept: bad faith. With the example of the woman on a date, who is unsure whether to encourage her companion's interest or to reject him, we discover consciousness' ability to strategically deploy both of its contradictory facets at different moments: its facticity and its transcendence. With the waiter, we encounter a case where consciousness doubles down on its facticity, at the cost of denying its transcendence. Finally, with the reluctant homosexual and his companion, the champion of sincerity, we see consciousness attempt to identify itself exclusively with transcendence. In each of these examples, Sartre demonstrates how, if the nature of consciousness determines that we are never identical to ourselves, bad faith remains an ever-present possibility, albeit one that will inevitably lead to failure.
Episode 2, Part 2: The Mountain Climber and the Gambler: Time and Anxiety
For Sartre, consciousness' non-self-identity also entails that it is divided across the three temporal registers of past, present and future. More precisely, he claims that consciousness' inner division is time itself in the form of the unstoppable passage of the present into the past and the unavoidable upsurge of another, future moment. Sartre's characters of the mountain climber and the gambler both experience this temporal division; a division that breaks the causal links between past, present and future. Thus, there is nothing that can stop the mountain climber, paralysed by vertigo, from throwing himself over the mountain's edge — not even the frightening possibility of his future death. Likewise, the gambler's past decision to stop gambling has no causal force on his present actions, leaving him adrift and afraid. Both are cases of what Sartre calls anxiety — a privileged affect that attests to our diasporic, divided being; or, to what amounts to the same thing: our freedom.
Episode 3, Part 1: The Man in the Park, the Voyeur at the Keyhole, the Resistance Fighters: The Look
Sartre's account of our relations to others is a dark masterpiece. Unlike any other philosophical work, Being and Nothingness captures just how much others — while obviously providing us with essential aid and daily enriching our lives — are also, irreducibly, a problem. In his haunting example of encountering another man in a park, Sartre first presents the other in the surprising guise of a thief, that is, as someone who 'steals our world', divesting us of our sovereign capacity to determine the significance of the objects around us. In Sartre's more famous example of the voyeur caught at a keyhole, we discover how the other 'fixes' our being, at once determining who we are yet doing so in a way that leaves us without any control over the matter. Finally, with the example of a group of French résistants about to storm a farmhouse atop a hill, Sartre shows how our encounter with the other is fundamentally the encounter with a look. This look, however, is not identical with the other's eyes but can be any number of things: a creaking floorboard, a snapped twig, a glint of light coming off what might well be a gun…
Episode 3, Part 2: Visiting the Doctor, Participating in an Experiment, Torturing, Loving: The Body
For Sartre, the body is not only a biological phenomenon: it is also something lived. He stages this duality in two striking examples: that of visiting a doctor for a wounded leg, and participating in a scientific experiment. In these two examples Sartre makes the world of the body as it exists for the other — that is, as a possible object of analysis and inquiry — and the world of the body as I live it, collide. Yet for Sartre the body is also the terrain on which we play out the two most fundamental forms of our relation to the other: sadism and masochism. In masochism, for which Sartre gives the unexpected example of love, we attempt to turn our body into a fascinating object for the other. In doing so, we leave ourselves dependent on our facticity and vulnerable to the other's look. In sadism, which Sartre illustrates with the example of torture, we try to destroy the other's transcendence by reducing them to pure flesh. Sadism too, however, fails, as our flesh is never just an inert object but the vehicle of our subjectivity. Sartre's account of being-for-others thus culminates in a conflictual dialectic that sheds philosophical light on the perpetual instability of our intersubjective relations.
Episode 4, Part 1: The Mountain Climber (Reprise), Skiing, Riding a Bike: The Situation
Sartre's doctrine of absolute freedom inevitably raises the question of how we are to understand what Simone de Beauvoir called the force of circumstance. If we are indeed free, then in what ways does our socio-historical situation nevertheless determine the contours of our lives? Sartre responds to this question by forging the concept of the situation, which he illustrates by again taking up the example of the mountain climber. By showing how, as a free, world-constituting subject, the mountain climber invests the physical parameters of their situation with meaning — the mountain's height, the difficulty of certain passes, their own fatigue — Sartre demonstrates how there is an indissoluble relation between the world and freedom. He develops this account through two further examples: those of skiing and riding a bike. In each example, we learn how any property of the world — even its physical properties — is tied to the subject's choice of itself.
Episode 4, Part 2: The War: Freedom and Responsibility
Being and Nothingness has often been read as a book of its time; specifically, of the Second World War, of the Nazi occupation of France, and of the Resistance. In fact, Sartre explicitly addresses the War in the section 'Freedom and Responsibility' from the chapter 'Being and Doing: Freedom'. There, by building upon his account of the concept of situation, Sartre affirms, in terms at once grandiose and disturbing, that each subject is entirely responsible for the War. This second part of te fourth 'episode' will allow us to take stock of what we have learnt of Being and Nothingness so far. Does the book support Sartre's radical claim about the War? In what way is the book's philosophical content inflected by Sartre's situation and the decisions he made in response to it?
Episode 5, Part 1: Flaubert, Rowing and Giving up Smoking: Existential Psychoanalysis
With his claim that the subject's freedom is constitutive of the world, Sartre must also account for how this freedom does not make the subject indeterminate or unpredictable, but rather forms the basis of a coherent personality; a personality based not on some prior substance but rather, as we know, on a choice. Sartre's infamous refiguring of Freud's psychoanalysis has for its principle aim the recovery of this choice, which forms the overarching structure governing each of the subject's individual acts. The examples Sartre offers to illustrate this new-fangled form of psychoanalysis include his analysis of rowing and an intriguing account of his own efforts to quit smoking. He also presents the first outlines of his existential psychoanalysis of the 19th century writer Gustave Flaubert, the subject of his final and longest work published thirty years later: The Family Idiot.
Episode 5, Part 2: Being and Nothingness: The Sequels
This final half-lecture will reflect on Being and Nothingness as a whole — on its distinct philosophical achievements, its blindspots, as well as its futures, both real and still to-come. Along with a series of reflections on how Sartre himself would go on to deploy and adapt Being and Nothingness' ontology in the years and decades following its publication, we will also briefly address what some of the book's most famous readers' have said about the work.
Course Difficulty
This course will presume no knowledge of Sartre, nor of Being and Nothingness. It will work on the basis of Sartre's examples, all of which are drawn from everyday life, and will steadily draw out their philosophical significance. It therefore aims to be accessible to all.
Recommended Readings
Jean-Paul Sartre, Being and Nothingness, trans. Hazel Barnes (Routledge, 2003)
Sebastian Gardner, Sartre's 'Being and Nothingness' (Continuum, 2009)
---
The Limits to Scientific Reason – Habermas, Foucault, and Modernity

Lecturer: Dr John McIntyre
Schedule: 12.30pm - 2.30pm. Monday, July 16 – Friday, July 20
Location: CAN, 180 Palmerston St, Carlton.
The "continental" tradition of philosophy has a long history of considering the place of scientific reason within society and its relationship to other forms of reason. Over recent years, there has been a discussion within Anglo-American philosophy which intersects with these concerns, particularly in relation to the dominant position of scientific naturalism which is committed to the view that (i) reality consists of nothing more than the entities to which the explanations of the natural sciences commit us, (ii) since scientific inquiries are our only source of real knowledge, all other forms of knowledge must be reducible to scientific knowledge and (iii) that philosophy should be continuous with science as to its methods, purposes and contents.
Whilst a number of responses to scientific naturalism have been formulated within the analytic tradition, the work of continental philosophers has not been adequately brought to bear. In an age where trust in social institutions such as democracy and science is under attack and, at the same time, neuro-scientists, evolutionary psychologists and their philosophical supporters proclaim to have discovered the "real" nature of art, morality, society, the self or freewill, the critical perspective of continental philosophers has much to offer.
The question of science and its role in modern society is found throughout the work of both Habermas and Foucault. Whilst championing philosophy's ultimately broader purview, Habermas harnesses science. He crafts areas of sociology, anthropology, psychology into a developmental social theory which yields norms to diagnose the pathologies of modern societies. Foucault suspends scientific norms to adopt the distanced stance of an observer charting the development of human sciences and their entanglements with power and subjectivity. By developing comprehensive perspectives on society, both these philosophers reveal new possibilities for thinking about science and its role in modernity.
The course will contextualise the works of the two thinkers: Foucault in terms of his later understanding of his project; and Habermas in terms of the ongoing development of core commitments. We will focus on key passages that bring into view the entanglement of scientific discourses with other discourses, power, subjects and objects and consider how this bears on the claims of scientific naturalism. We will examine not only what Foucault and Habermas say about science as a social institution but how they, at the same time, employ it. Rather than revisit the well-trodden path of the "debate" between Foucault's and Habermas' supporters, we will consider what the different stances adopted by the two thinkers tells us about modern reason, and the place of science within it.
Course Schedule
Lecture 1
In this lecture we will explore the nature and roles of the sciences in modernity. Firstly, we will consider the extent of science's rational authority and its capacity to trump other discourses. This authority will be viewed in the light of modernity's increasing reflexivity, whereby human beings increasingly take themselves as objects of scientific investigation. This raises the question of possible limits to science's jurisdiction.
We will then turn to Habermas, placing his life and works within a broad context to reveal the motivations and commitments which animate his entire project. We will examine Habermas' early critiques of positivism and his first formulation of a comprehensive theory of rationality in Knowledge and Human Interest, a work which grants an important yet limited place to natural science alongside other forms of inquiry.
Lecture 2
This lecture will focus on Habermas' magnum opus The Theory of Communicative Action in which he provides an ambitious systematic basis for social theory. Avoiding the voluminous detail, we will draw on this work in a way which bears directly on the themes of science, modernity and philosophy. In particular, we will see how Habermas employs his distinction between lifeworld and system, a distinction he argues is necessary to an adequate theoretical grasp of modern societies.
Habermas sees the lifeworld as the home of communicative action, in which we co-ordinate actions by an orientation to the "ideal speech situation". Habermas draws on developmental theories of psychology and anthropology to show how "systems" have emerged to relieve the burden of excessive communications within the lifeworld. The danger for modernity is that these systems have assumed a life of their own and return to colonise the lifeworld's communicative resources, so narrowing reason's scope.
Lecture 3
This lecture brings Habermas' theory to bear on concrete social questions which demand responses. In relation to recent advances in neuroscience, we will see Habermas defend a non-reductive notion of freewill against scientific naturalism. We will examine Habermas views on the place that religious language should be given in public discourses in modern democratic societies. We will also consider Habermas writing on the possible threats posed by unregulated genetic manipulation prior to embryo implantation.
We will then consider how Foucault radicalises Habermas' approach by examining his essay What is Enlightenment? We will develop an overview of Foucault's archaeological works, by drawing on relevant aspects of The History of Madness and The Order of Things to broadly sketch Foucault's understanding of the human sciences, their authoritative power effects and relations to other areas of rationality.
Lecture 4
This lecture will consider how Foucault draws on Nietzsche to develop his concept of a ubiquitous and inexorable power/knowledge (where knowledge is generally scientific knowledge) working constantly behind our backs. We will see how this power/knowledge draws on discourses, practices, concepts and objects such as the Panopticon prison to constitute particular types of subjects – delinquents, homosexuals and madmen, for example – which are not what they are until drawn into this web of knowledge/power. We will examine Discipline and Punish, History of Sexuality vol. 1 and various lectures and interviews.
Lecture 5
In the final years of Foucault's work, he sought inspiration from ancient philosophy to develop the notion of the care of the self, whereby the self - not just power/knowledge - works upon, and determines, the self. We will discuss his account of the genealogy of the subject, particularly the "Cartesian moment" in which the modern sciences where born, not by the ever-increasing rigor of observation, but by the emergence of a subjectivity open to the "truth regime" we now accept as science. This will lead to a consideration science and its relation to philosophy which Foucault sees as a way of life by which one is transformed to see things differently.
We will conclude by comparing the work of Foucault and Habermas in terms of the broader framework of modern reflexivity. We will consider the ways each of their strategies fits within this framework, characterised by participant and observer perspectives and what each strategy reveals and occludes. We will discuss criticisms of both Foucault and Habermas to argue that what appear as irreconcilable differences, perhaps need no reconciliation, nor are that much different. This conjecture is brought back to bear on the question of science, its authority and its limits.
References
Habermas
Habermas, J. 1971a (1968) Towards a Rational Society Heinemann Educational Books Ltd. London.
Habermas, J. 1972 (1968) Knowledge and Human Interests Beacon Paperback USA
Habermas, J. (1984) The Theory of Communicative Action vol 1 Beacon Press
Habermas, J. (1989) The Theory of Communicative Action vol 2 Beacon Press *pp.354-5
Habermas, J. 1989 (1962) The Structural Transformation of the Public Sphere Polity Press Cambridge UK
*Habermas, J. (2003) The Future of Human Nature Polity Press
Habermas, J. 2009 (2005) Between Naturalism and Religion (trans. C. Cronin) Polity Press Cambridge UK * "Freedom and Determinism" p151-181
Habermas, J. 2007 "The Language Game of Responsible Agency and the Problem of Free Will" in Philosophical Explorations, vol. 10 no. 1 March 2007
Foucault
Foucault, M. 2006 (1961) History of Madness Routledge Oxon U.K. *p.443-9
Foucault, M. 2002 (1966) The Order of Things Routledge Classics Oxon. *p. 356-7, p. 375-380, Preface xvi-xxvi
Foucault, M. 1995 (1975) Discipline and Punish Vintage Books New York. *p. 195-228
Foucault, M. 1979 (1976) History of Sexuality vol. 1 The Will to Know Penguin Middlesex UK. *p.92-102
Foucault, M. 1997 The Politics of Truth Lotringer (ed) Semiotext(e) New York. *p.97-121
Foucault, M. 1980 Power/Knowledge Selected Interviews and other Writings C. Gordon (ed) Vintage Books New York
Foucault, M. 1983 Fearless Speech 6 lectures at Berkeley online audio resource http://www.lib.berkeley.edu/MRC/foucault/parrhesia.html
Foucault, M. 1984 The Foucault Reader P. Rabinow (ed) Penguin Middlesex
Foucault, M. 1989a Foucault Live, Collected Interviews, 1961-84 S. Lotringer (ed) Semiotext(e) New York
*the asterisk indicates portions of texts that will be discussed or relate directly to the content of the course. They are supplementary, not essential for the course.
---
Exilic Alliance: Diasporic Philosophy with Judith Butler
Lecturer: Louis Klee
Schedule: 3pm - 5pm. Monday, July 16 – Friday, July 20
Location: CAN, 180 Palmerston St, Carlton.
There is no longer any homeland other than a world in which no one would be cast out any more, the world of a genuinely emancipated humanity.
- Theodor W. Adorno, Notes to Literature
In her book Parting Ways (2012), Judith Butler sets out to articulate a diasporic account of political philosophy, re-reading modern Jewish thinkers such as Hannah Arendt, Emmanuel Levinas, Walter Benjamin, and Primo Levi alongside Palestinians such as Edward W. Said and Mahmoud Darwish. The result, in her words, is a "meditation of tarrying with the impossible"; one that hinges on the attempt to find "a set of principles from scattered existence that can serve a new conception of political justice."
This course takes Butler's timely reinterpretations of these thinkers as an invitation to read them anew and together; to explore how their ethical and political arguments can speak to the present in ways that they themselves may not have avowed or anticipated. We will trace the alternative ethical tradition of diasporism, focusing especially on the political philosophy of Hannah Arendt. Then, turning to the provocative writings of Ella Shohat and Freud's enigmatic final work Moses the Man and the Monotheistic Religion, we will question the ways in which identities such as the Arab and the Jew have been shaped and reshaped historically. Finally, we will consider Edward Said's late project, which asked how Jewish and Palestinian histories of exile might be though together despite their manifest differences. In this light, we will re-read the Arab world's most celebrated twentieth-century poet, Mahmoud Darwish.
Course Schedule
1. 'Our Homeland, the Text': Introducing Diasporism
'Diaspora', the ancient Greek word used in the Septuagint to translate the 'scattering' of the Jewish people, has, like the Hebrew term galut or 'exile', been significant part of Jewish tradition. At its most basic, 'exile' recalls a condition of being out of place and the nation of the uprooted; yet it can also, in a more emphatic use, refer to the world's imperfection, even God's exile from history. Today, the word diaspora has become a catchall, as Daniel and Jonathan Boyarin write in The Power of Diaspora, used to describe everything from "the Chicano/a disruption of the U.S.-Mexico border, the Black Atlantic, the overseas Chinese, and intellectuals from the Indian subcontinent living and working inside the Euro-American metropole." What is so compelling about this term? What is its continuing significance? What is the difference, if any, between diaspora, exile, and seeking refuge? And what are the stakes of diaspora in politics and philosophy?
We will explore these questions by reading Sidra DeKoven Ezrahi's lucid introduction to the geographic imaginary in Jewish culture—what she calls the "poetics of exile and return"—George Steiner's famous and impassioned essay 'Our Homeland, the Text', and the opening of Butler's Parting Ways.
Readings:
Judith Butler, 'Introduction', Parting Ways: Jewishness and the Critique of Zionism (2012)
Extract from Sidra DeKoven Ezrahi, Booking Passage: Exile and Homecoming in the Modern Jewish Imagination (2000)
George Steiner, 'Our Homeland, the Text', Salmagundi 66 (1985), pp.4-25
2. Hannah Arendt: A Diasporic Critique of the Nation-State
Hannah Arendt was intimately acquainted with exile. She fled her home in Germany, escaped from an interment camp in France, and took refuge in the United States. In this lecture, we will consider her political philosophy in light of her reflections on the condition of the refugee in her famous essay 'We Refugees' and her controversial treatment of the trial of Adolf Eichmann in Jerusalem.
It is in these writings especially, Judith Butler believes, that we can find the impetus for a politics of "cohabitation" and "binationalism." Despite her relevantly recent turn to Arendt and her reservations, even "revulsion," at some of Arendt's political and philosophical convictions, Butler shares a commitment to theorising an alternative form of political community to the nation-state. From Arendt's Eichmann in Jerusalem: A Report on the Banality of Evil (1963), Butler derives a principle of cohabitation: the unchosen obligation to share the earth with others.
Readings:
Hannah Arendt, 'We Refugees', The Jewish Writings (2007)
Extract from Hannah Arendt, Eichmann in Jerusalem
3. On Freud's Moses and Shohat's 'Arab-Jew'
"The man Moses, liberator and law-giver of the Jewish people, was not a Jew but an Egyptian." These are the words of Freud in his final, posthumously published work Moses the Man and the Monotheistic Religion—a curious and erratic text, marked by the unusually difficult circumstances of its composition ("internal misgivings coupled with external constraints", in Freud's own description). While the external constraints are clear enough—Freud's old age, ill-health, and his flight from the rise of fascism to London—the internal misgivings have been the subject of enduring debate. Why does Freud feel compelled, as one commentator puts it, "to publish such a book at a time when European Jewry had already entered its darkest hour?"
Hoping to shed some light on this text, we will read it along with Ella Shohat's writing on the 'Arab-Jew'. Though this term may today sound oxymoronic, Shohat urges us to recall the ways in which these categories were together a lived and embodied identity for Sephardic and Mizrahi Jewish communities for centuries—at least up until the point that, as she puts it in her seminal essay 'Sephardim in Israel' (1988), they became antonyms, thrown into a painful binary, with the rise of new nationalisms.
Readings:
Ella Shohat, 'The Sephardim in Israel', The Arab Jew and Other Essays (2017)
Extract from Sigmund Freud, Moses the Man and the Monotheistic Religion
4. Reflections on Exile: Edward Said's Palestinian Writings
Across his numerous writings on Palestine, Said returns to manfa, 'exile', and ghurba , 'estrangement' as "the fundamental condition of Palestinian life." Manfa, he argues, applies both to those inside the historic borders of Palestine—Arab citizens of Israel and occupied subjects of Gaza and the West Bank—and to those outside, in the shatat, scattered from the refugee camps of Jordan to the suburbs of Australia. In both cases "to be a Palestinian" means, in Said's words, "to live in a utopia, a nonplace, of some sort."
There are moments when Said plays on the convergences between Palestinian and Jewish histories of exile, remarking at one point that the Palestinians have "the most extraordinary of exile's fates: to have been exiled by exiles." In this lecture, we will consider Said's ambivalence toward equating or drawing symmetries between these two histories of exile and suffering. What is at stake in comparing them? And what is lost in the translation?
Readings:
Extract from Edward Said's 'Reflections on Exile', Reflections on Exile and Other Essays (2007)
Extract from Edward Said's After the Last Sky (1988)
5. Exile's Poet: Mahmoud Darwish and the Idea of Manfa
Mahmoud Darwish, one of the seminal poets in twentieth-century Arabic writing, is often thought of a poet of resistance or the national poet of Palestine, but he is equally a poet of exile. "Who am I, without exile?" as he writes in one poem, turning exile into an ethos that can be lived, even in one's homeland. We will read his "lyrical, imagistic, plaintive, haunting, always passionate, and elegant" poems, as Naomi Shihab Nye has described them, in translation alongside those of the Hebrew poet Yehuda Amichai, and the Egyptian-born, French-language poet, Edmond Jabès. "I like the conflict between me and Amichai," Darwish once said, "we compete over who is more in love with this land, and who writes about [this love] more beautifully."
Readings:
Extract from Judith Butler's 'Who are We Without Exile?', Alif (2012)
Poems by Mahmoud Darwish: 'In the Presence of Absence', 'We Travel Like Other People', 'Edward Said: A Contrapuntal Reading'
Poems by Yehuda Amachi from The Poetry of Yehuda Amichai (2015), ed. Robert Alter
Extract from Edmond Jabès, The Book of Questions
---
Noise on the line: cybernetics, structuralism and beyond
Lecturer: Dr Graham Jones
Schedule: 6pm - 8pm. Monday, July 16 – Friday, July 20
Location: CAN, 180 Palmerston St, Carlton.
Cybernetics is the metaphysics of the atomic age.
- Martin Heidegger, 1976
Although cybernetics today seems like an obsolete 'science', a mere relic of Cold-War politics and naive 1950s science fiction novels, its influence upon various philosophical, social, political, psychological and economic theories and models over the last 70 years has been enormous - in fact, to such a degree that it would be difficult to exaggerate its true significance.
This course offers an introduction to cybernetics and its legacy. It begins by examining the origins of cybernetics, its key contributors, fundamental concepts, and subsequent evolution, offshoots and criticism, before turning towards looking at its influence on the genesis of 'French' structuralism and a particularly pervasive and influential paradigm of communication (the 'SMR' model). With these co-ordinates in place the course then examines the responses of three specific thinkers - Jacques Lacan, Michel Serres and Gilbert Simondon - each of whom sought to go beyond the inherent limitations of cybernetics and structuralism.
Course Schedule
Seminar 1: 'The future just ain't what it used to be!'
The first seminar presents a philosophical and political genealogy of cybernetics, as well as its subsequent conceptual influence (game theory) and offshoots (information theory and systems theory). It explains the key notions of control, equilibrium, feedback, information, entropy and noise, and presents some examples of how these were then, collectively or in part, applied with differing degrees of 'success' to other domains. It then examines some of the more well-known responses in the humanities - both positive and negative - towards cybernetic's concepts and influence.
Seminar 2: 'If the world's a text then where can I get the cheaper ebook version?'
The second seminar explains how cybernetics influenced the origin of the structuralist movement in France. It outlines the precepts of structuralism and presents examples of the latter's application in different cultural fields (such as the anthropological analysis of kinship-relations and gift-giving). It also looks at Jakobson's model of communication (itself influenced by the work of Claude Shannon) and the influence of this model upon the study of communications and the mass media. Time permitting, the seminar will finish by examining the criticisms of cybernetics and its legacy presented by Jean-François Lyotard in The Postmodern Condition.
Seminar 3: 'A ghost in the machine or just a machine in the ghost?'
This seminar provides a brief overview and introduction to key Freudian and Lacanian ideas before examining the specific influence of cybernetics and structuralism upon the account of the 'unconscious' and the Symbolic presented in Lacan's famous seminars of the 1950s and 1960s. It will then look at several examples in Lacan's work, including his discussion of the circulating letter in Poe's short story 'The Purloined Letter', and his later elaboration of the 'graph of desire'.
Seminar 4: 'There's no such thing as a free lunch!'
This discussion provides an introduction to the general assumptions underlying Serres' 'isomorphic' approach to the inter-relations of the physical sciences, humanities and the fine arts, evident throughout his extensive oeuvre. It will then explain his views on communication and interference (from the series of books referred to as 'Hermes' which were heavily influenced by cybernetics), as well as some of his later ideas about 'noise' and the 'quasi-object', before finally examining in detail his related discussion of the 'parasite'.
Seminar 5: 'An individuation, a tool, and a genome all walk into a bar . . .'
This seminar introduces the (until recently) little-known work of Simondon, which was a direct response to the perceived shortcomings of the cybernetic paradigm. It will briefly examine Simondon's own intellectual genealogy (particularly the influence of Leroi-Ghouran) before outlining his ontology, his modification of the notions of information and technology, and the related concepts of the pre-individual, technics, transduction, individuation, modulation, and disparity elaborated in his work.
A preliminary reading list for those eager to get started
Wiener, Norbert. Cybernetics: on control and communication in the animal and the machine (2nd edition)
Lacan, Jacques. The Seminar of Jacques Lacan: Book 2: The Ego in Freud's Theory and in the Technique of Psychoanalysis 1954-1955.
Serres, Michel. The Parasite
Simondon, Gilbert. On the mode of existence of technical objects
[Note: Although there will be a lot of detailed philosophical discussion in this course it does not require any familiarity with mathematics or coding in order to comprehend the relevant concepts]