Jon Roffe Deleuze Vol 1
Book Launch at The Shady Lady, Fitzroy on Dec 6.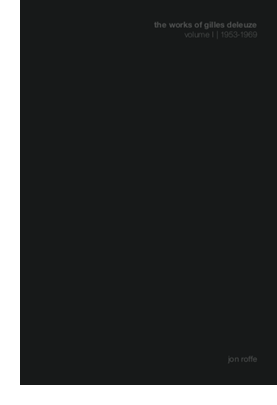 This Event is now past. Much thanks to all attendees - follow the link to re press below to purchase and or download the book.
The Melbourne School of Continental Philosophy is pleased to host the launch for Jon Roffe's The Works of Gilles Deleuze volume I: 1953-1969. Published by re.press.
6.30pm, Friday December 6th
The Shady Lady, 36 Johnston Street, Fitzroy
To be launched by AJ Bartlett.
All welcome.
Books will be available for purchase at the launch. The book at re.press is right here.
"There is no better entry to Deleuze than these brilliant accounts of his individual works. Witty, unpretentious, yet rigorous, erudite and illuminating, Roffe's readings make palpable the vital force of Deleuze's thought. A truly remarkable book—compelling, provocative and original." - Ronald Bogue, University of Georgia
"Lively, engaged and erudite, this is an impressive yet accessible reading of Deleuze's singular contributions to contemporary philosophy. Roffe provides Deleuze's work with a truly Deleuzian reading." - Elizabeth Grosz, Duke University
"I am often asked which book by Deleuze one should read first, and I finally have a response: start with Jon Roffe's book. For readers old and new, Roffe's book is destined to become one of the classic guides to Deleuze's works." - Daniel W. Smith, Purdue University