Summer School 2020
Nine philosophy short-courses taught in Melbourne Jan - Feb.
The Melbourne School of Continental Philosophy is proud to present the Summer School 2020 curriculum. All courses are 10 hours in length. As always significant discounts apply for those enrolling in multiple courses. If you have any questions which aren't in our FAQs please email This email address is being protected from spambots. You need JavaScript enabled to view it..
When: 13 Jan - 21 Feb 2020
Where: Church of All Nations (CAN), 180 Palmerston st, Carlton. There will be MSCP signage at CAN. Note: Disabled access is via the rear of the building which will also have MSCP signage.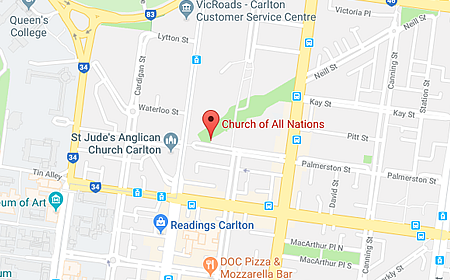 Show the Church of All Nations in Google Maps
Fees:
| | | |
| --- | --- | --- |
| Courses | Waged | Unwaged |
| 1 | $120 | $80 |
| 2 | $180 | $120 |
| 3 | $210 | $140 |
| 4+ | $240 | $160 |
Enrol

The enrolment form includes both attendance and distance enrolment options. Distance Enrolment is available for all courses.
Summer School Programme
2 hours per week for 5 weeks
2 hours per day for 5 days
Course Descriptions
---
"A Thought from Outside:" the unthought in Blanchot, Foucault and Deleuze
Lecturer: Tim Deane-Freeman
Schedule: 6.30-8.30pm. 5 Mondays starting Jan 13
Location: CAN, 180 Palmerston St, Carlton.
This course is dedicated not to a specific thinker or oeuvre but rather to a concept, which traces its way across 20th century French thought. The "outside" –the unarticulated, unseen and unthought presence which, for Blanchot, Foucault and Deleuze, serves as the very condition of thought– plays a crucial yet sometimes overlooked role in each of their respective projects. For Blanchot, the outside is the remit of the "space of literature," an impersonal, Nonreal and Nontrue "pure being" of language, prior to any subjective investment. For Foucault, it is "the hiding place of all being," the silent rumbling of a language spoken by no one, yet sculpted into discursive mythologies of truth and law. And for Deleuze, the outside is that "shock" which provokes thought, an encounter with the unthinkable, which confronts thought with its fundamental "impower" and causes it to be re-born in a constellation of mutant new becomings. This course will attempt a cartography of the outside, mapping its "line of flight" across the work of these thinkers, at the same time providing a point of access to their nebulous projects, which are united in their attempt to provide a rigorous critique of any habitual model or exercise of thought.
As such, we begin in week one with the outside as it emerges in the extraordinary correspondence between Antonin Artaud and Jacques Rivière, later a source of inspiration for both Blanchot and Deleuze. In week two, we will turn to Blanchot's works The Space of Literature and The Book to Come, which draw on Artaud in identifying the functions of a literary outside, to which he will attribute a profound dissolution of the subject. In week three, we will continue with Foucault's reading, in The Thought from Outside, of a metaphysical outside, with distinctly political implications– a means by which we might rethink the interested constructions of "discourse." In week four, we will turn to Gilles Deleuze, and his (im)famous critique of a "dogmatic image of thought," animating philosophy as far back as Plato. At the heart of this critique is once more Artaud, and a model of thinking as a "central breakdown" and subsequent creativity in response to an encounter with the outside. Finally, the course will close with an elaboration of the cinematic outside which emerges in Deleuze's work on film. Whereas Blanchot and Foucault identify a literary outside, film, in its experiments with the out-of-frame (hors champ) produces a literal outside, an externality to the image which Deleuze will suggest confounds thought, once more provoking it anew.
The significance of this study is threefold. First, as I have suggested, it introduces a clutch of disparate projects in 20th century French thought, across which we will identify instructive commonalities and points of difference. Second, in focussing on the trajectory of a concept as opposed to the work of a single thinker, it will draw out and emphasise the themes of impersonality, imbrication and autogenesis which are central to this 20th century "moment" in French philosophy. Finally, in treating the concept of the outside, I hope to illustrate the coalescence of metaphysics, noetics and –perhaps most importantly– politics in the context of this philosophy, in keeping with my reading of the outside as a response to the catastrophe of capitalism and its neoliberal descendants, across the entwined registers of thought, art and life.
Lecture 1: "A central collapse of the mind"
In week one, we begin with Antonin Artaud's correspondence with the editor Jacques Rivière. Responding to the latter's refusal to publish his poems, Artaud attempts in these letters to articulate the mute suffering which was their condition. "I am speaking of the absence like a gap," he writes, "of a kind of cold, imageless suffering, like an indescribable clash of abortions." However, both Blanchot and Deleuze will identify in this crisis of Artaud's, the fact that he has not "yet begun to think," a model of thought's very genesis, its becoming as a catalytic and creative response to states and events which are unthinkable. In addition to a discussion of these letters and their subsequent influence on the projects of Blanchot and Deleuze, we will introduce Artaud's work more generally, identifying in it a consistent tendency towards contact with that which is "outside" any habitual exercise of thought.
Key reading:
Antonin Artaud, "Correspondence with Jacques Rivière," trans. Bernard Frechtman, in Jack Hirschman (ed.), Artaud Anthology, City Lights, San Francisco, 1965, pp.7-25
Recommended readings:
Antonin Artaud, The Spurt of Blood, trans. Ruby Cohn, 1925,
URL: < http://spurtofblood.com/ >
Antonin Artaud, "Theatre and the Plague," in The Theatre and its Double, trans. Victor Corti, Alma, London, 2010, pp.9-22
Antonin Artaud, "All Writing is Pigshit…" trans David Rettray, in Jack Hirschman (ed.), Artaud Anthology, City Lights, San Francisco, 1965, pp.38-40
Lecture 2: "the giant murmuring upon which language opens"
Blanchot takes up the motif of the "impossibility" of thought in his idiosyncratic study of literature. In week two, we turn to this study, and to the "outside" as it emerges in The Space of Literature. Here, Blanchot will draw on Artaud, Kafka, Mallarmé and others, to suggest that this "space" is characterised not by any sort of "communication" or "self-expression" on the part of the literary author, but rather by the profoundly impersonal presence of pure language, a language spoken by nobody, which overtakes the meagre interests and presuppositions of its users. In this context, we will identify the dual legacies of Heideggerian "aesthetics" and the Hegelian negative in Blanchot's thought, gesturing however to the points at which he exceeds these respective projects, in the direction of a radically inhuman externality encountered in the literary word.
Key reading:
Maurice Blanchot, "The Essential Solitude" and "Approaching Literature's Space," in The Space of Literature, trans. Ann Smock, University of Nebraska Press, Lincoln, 1982, pp.19-38
Recommended readings:
Maurice Blanchot, "Artaud," in The Book to Come, trans. Charlotte Mandell, Stanford University Press, Stanford, 2003, pp.34-41
Maurice Blanchot, "Poetry and Language," in Faux Pas, trans. Charlotte Mandell, Stanford University Press, Stanford, 2001, pp.135-141
Leslie Hill, "The (Im)possibility of Literature," in Blanchot: extreme contemporary, Routledge, London, 2001, pp.53-91
Lecture 3: "I lie, I speak"
In week three, we encounter Foucault's thoroughly metaphysical reading of Blanchot, according to which the outside becomes "the hiding place of all being," a being which is falsified and reduced by the interested practices of law, faith and the vicissitudes of "discourse." In "The Thought from Outside," Foucault claims as imbricated this pure being and a form of thought radically exterior to the subject, derived from "neither truth nor time, neither eternity nor man," but rather, "the always outdone form of the outside." Such a thought, in Foucault's hands, and in keeping with his long-standing philosophical objectives, becomes a means of overturning politicised functions of abstraction and law which operate within discourse, potentially opening up the space for the kinds of localised, micro and differential resistances to which Foucault would increasingly dedicate his work. We will trace some of the subsequent implications –as well as the sudden disappearance– of the outside in the context of this project in the latter half of the lecture.
Key reading:
Michel Foucault, "Maurice Blanchot: The Thought from Outside," trans. Brian Massumi, in Foucault / Blanchot, Zone, New York, 1987, pp.7-60
Recommended readings:
Maurice Blanchot, "Michel Foucault as I Imagine Him," trans. Jeffrey Mehlman, in Foucault / Blanchot, Zone, New York, 1987, pp.61-109
Gilles Deleuze, "Appendix: On the Death of Man and Superman," in Foucault, trans. Seán Hand, University of Minnesota Press, Minneapolis, 2006, pp.124-132
Lecture 4: "a thought without image"
Deleuze, as we have said, likewise draws on Artaud, in advancing his critique of a "dogmatic image of thought" he claims has plagued philosophy with conservatism and lassitude for centuries. Lecture four will introduce this critique as it is articulated in chapter three of Difference and Repetition, drawing out the significance of the outside, which here serves as the object of an "encounter" such as forces us to think. Thinking, for Deleuze, is not "dogmatic" recognition or representation, the retracing of an already distributed regime of sense. Thought is rather the product of a traumatic encounter with that which we have never thought, that which we lack the capacity to think, such that we are forced into an exercise of thinking as creation. This is the creation not only of new and hitherto unforeseeable modes of thought, but, in keeping with the radical immanence of Deleuze's philosophy, new modes of life itself. While the vocabulary of the "outside" is largely absent from Difference and Repetition, this lecture will suggest its subterranean presence in Deleuze's critique of the "dogmatic image," and prepare the way for its re-emergence in his books on cinema.
Key reading:
Gilles Deleuze, "The Image of Thought," in Difference and Repetition, trans. Paul Patton, Columbia University Press, New York, 1994, pp.129-168
Recommended readings:
Gilles Deleuze, "New Image of Thought," in Nietzsche and Philosophy, trans. Hugh Tomlinson, Continuum, London, 1983, pp.103-110
Daniella Voss, "The Dogmatic Image of Thought," in Conditions of Thought: Deleuze and Transcendental Ideas, Edinburgh University Press, Edinburgh, 2013, pp.18-73
Lecture 5: "the outside and the cinematic eye"
"The search for new means of philosophical expression," writes Deleuze, "…must be pursued today in relation to the renewal of certain other arts, such as the theatre or the cinema." And perhaps the key reason for this identification of philosophy and cinema lies, for Deleuze, in the latter's relations with the outside. "All framing determines an out-of-field," Deleuze will claim, and this externality, in the fragmentary and disjunctive image-spaces of the cinematic New Waves, begins actively to produce an outside, an unthinkable presence which lurks as provocation beyond each frame. The cinema of the post-war time-image, Deleuze will thus argue, stages just those "encounters" he had valorised in Difference and Repetition, some fifteen years before. However more than just a "noetic" externality, the outside must once more be understood here under the auspices of a radical immanence, such that cinema produces new forms of space and time, in the most concrete, and thus potentially political sense. This lecture will close the course with a brief discussion of the significance of Deleuze's cinematic outside in the context of the contemporary, non-cinematic, digital and networked image.
Key reading:
Gilles Deleuze, "Thought and Cinema," in Cinema II: The Time-Image, trans. Hugh Tomlinson and Robert Galeta, University of Minnesota Press, Minneapolis, 1997, pp.156-188
Recommended readings:
Gilles Deleuze, "Beyond the Movement-Image," in Cinema II: The Time-Image, trans. Hugh Tomlinson and Robert Galeta, University of Minnesota Press, Minneapolis, 1997, pp.1-24
Gregory Flaxman, "Out of Field – the future of film studies," in Angelaki Journal of the Theoretical Humanities, Vol. 17, No. 4 (December 2012), pp.119-137
Anne Sauvagnargues, "Deleuze: Cinema, Image, Individuation," in Artmachines: Deleuze, Guattari, Simondon, trans. Suzanne Verderber with Eugene W. Holland, Edinburgh University Press, Edinburgh, 2016, pp.85-109
Recommended viewing:
La Jetée, dir. Chris Marker, Argos Films, Paris, 1962
Germany, Year Zero, dir. Roberto Rossellini, UGC, Rome, 1948
Last Year at Marienbad, dir. Alain Resnais, Cocinor, Paris, 1961
Inland Empire, dir. David Lynch, Absurda / Studio Canal, Irvine / Paris, 2006
---
Madmen
Lecturer: Dr Valery Vinogradovs
Schedule: 6.30-8.30pm. 5 Tuesdays starting Jan 14
Location: CAN, 180 Palmerston St, Carlton.
'They can be violent, witty, cheerful, embarrassing, brilliant and unbearable like Bukowski, or else melancholic, hallucinating, unimaginative, euphoric, inconspicuous, cruel or harmless, and always unruly'
On what grounds can a human being be diagnosed as mad? a central problem addressed in this express course exploring the philosophical limits of madness.
'Madness deals not so much with truth and the world, as with man and whatever truth about himself he is able to perceive', one of the conclusions Michel Foucault makes in his Madness and Civilisation (1961). Indeed, humans seek agreement (or solidarity) on matters of fact, organisation and value. Mad people, on the other hand, transgress the prevalent norms. Interestingly, it is by testing/transgressing/correcting norms that cultures evolve. Therefore, it is not that madmen transgress only cultural norms, but also the norms and rules of rationality. To be mad is to do violence to reason and body -- to make no (common) sense; and to be excluded. Madness haunts the bounds of culture and, deeper, the limits of reason philosophers traditionally aim to elucidate and evaluate.
Hence, an inquiry into the prominent historical accounts and examples of madness is an important task for anyone interested in the art of philosophical reasoning and the phenomenon of culture, particularly their fringes. Structurally, this course pays homage to Foucault's seminal book and elaborates on his findings in a number of ways:
1. Classics: Ignorance, Inspiration, Meaning
Strangely, Foucault provides no discussion of the philosophical and literary roots of madness buried in Classical antiquity. Potentially this can be a major oversight,--recall Orestes, Agave, Caligula,--and hence we begin by reviewing the major Classical accounts of madness exposing one's soul, as Plato notes in Protagoras, 'to a great danger'.
Plato. 'Protagoras', trans by Benjamin Jowett, in the Dialogues of Plato: 1197-1243
Plato. 'Phaedrus', trans by Benjamin Jowet, in the Dialogues of Plato: 1055-1115
Padel, R (1995). Whom Gods Destroy: Elements of Greek and Tragic Madness, PUP
Werner, D (2011). 'Plato on Madness and Philosophy', Ancient Philosophy (31): 47-71
Ahonen, M (2014). 'Plato on Madness and Mental Disorders', in Mental Disorders in Ancient Philosophy: 35-67
2. Erasmus, Bosch and Shakespeare: Prudence, Fatal Disease and Melancholia
In this lecture, drawing from philosophy and art, we first follow Foucault's lead and probe into the Renaissance masters of humanism. Here, we will demonstrate how cultural norms can dominate the process of truth-formation,--here, that of folly. In addition, by looking at the figures of Hieronimo and King Lear, among others, we will ascertain an original tragic meaning of melancholy.
Erasmus (1509). The Praise of Folly, trans by John Wilson, Reeves & Turner
Foucault, M (1965). 'Stultifera Navis', in Madness and Civilisation: pp. 15-49
Shakespeare, W (2015). King Lear, Cambridge School Shakespeare
3. Descartes and de Sade: Terminal Scepticism
The third lecture considers the timeless case of rationalist insanity posited by René Descartes in the 17th century, to then consider Baruch Spinoza, who found Descartes' argument to be ludicrous a decade after his death. In the second hour, we will take a look at Marquis de Sade, the man and the author.
Descartes, R (1641). Meditations on First Philosophy, trans by Elizabeth S. Haldane
Bostrenghi, D (2014). '"Unreason with Reason": Imagination and Madness in Spinoza's Work', Etica e Politica (16): 305-323
De Sade, M (1791). Justine, or the Misfortunes of Virtue, trans by John Phillips, OUP
Roche, G (2010). 'Much Sense the Starkest Madness: Sade's Moral Scepticism', Angelaki (15): 45-59
4. Nietzsche and Freud: Ordinary Madness
Foucault's book barely touches on the relevant work produced in the 19th and the 20th centuries. This week we fill the gap by considering Friedrich Nietzsche's views on exploring the bounds of reason, his dramatic breakdown, and, of course, his piano improvisations in March 1890. In the second hour, we will overview the contribution to the debate by the father of psycho-analysis, Sigmund Freud, one of the principal intellectual rivalries of Foucault.
Berthold-Bond, D (1991). 'Hegel, Nietzsche and Freud on Madness and the Unconscious', Journal of Speculative Philosophy (5): 193-213
Hooke, A (2003). 'The Most Silent of Men: Nietzsche's Other Madness', Journal of Phenomenological Psychology (34): 99-125
Kyle A & Atwood G (2000). "Nietzsche's Madness', Psychoanalytic Review (87): 651-698
Whitebook, J (1999). 'Freud, Foucault and the "Dialogue with Unreason"', Philosophy and Social Criticism (25): 29-66
Derrida, J (1994). '"To do Justice to Freud": The History of Madness in the Age of Psycho-Analysis', Critical Inquiry (20): 227-266
5. Foucault and his Interlocutors: Pain in Error
The final lecture sums up Foucault's position on the problem of madness, its socio-historical underpinnings, and considers the famous debate with Derrida, as well as interesting parallels with Ludwig Wittgenstein. Our discussion will also be guided by the recent literature intersecting philosophy and psychiatry, the cutting-edge examples found therein, and, ultimately, we will try to determine whether philosophy can provide a ground to recognise madness.
Foucault, M (1965). Madness and Civilisation, trans by Richard Howard, Vintage Books
Derrida, J (1978). 'Cogito and the History of Madness', in Writing and Difference: 42-55
G.P.B. (1979). 'Cogito Incognito: Foucault's 'My Body, This Paper This Fire', Oxford Literary Review (4): 5-28
Wittgenstein, L (1958). Philosophical Investigations, trans by G.E.M. Enscombe, Wiley-Blackwell
---
Castoriadis: a militant philosopher? Poiesis, Power and Historicity
Lecturer: Sean McMorrow
Schedule: 6.30-8.30pm. 5 Wednesdays starting Jan 15
Location: CAN, 180 Palmerston St, Carlton.
This course will provide a general overview of Cornelius Castoriadis's work. As a starting point, it will take his novel theory of historicity developed in order to surpass practical and philosophical issues with Marxism, involving an attempt to salvage a 'revolutionary' perspective on human creativity from Marx's work. Generally speaking, the course will outline Castoriadis's understanding of historicity as a temporal mode of poiesis, in order to highlight the fresh approach he brings to politics and the political; ultimately detailing how power shapes institutional contexts in ways that can suppress or open up the creative capacities of a political community.
The significance of Castoriadis's perspective will be discussed in relation to the central themes of his work, which include: a revisioning of the imagination, a phenomenological reassessment of the social-historical 'world', the notion of social imaginaries, a reconstruction of subjectivity that incorporates psychoanalysis and the life sciences, and the formation of autonomous and heteronomous political regimes.
Three pedagogical incentives will guide the course material; (a) to provide historical context to the intellectual development of Castoriadis's thought, (b) to situate his work in relation to the philosophical ideas that were influential to his project, and (c) to provide a clear interpretation of the central concepts developed by Castoriadis.
The course is aimed toward those who have no prior knowledge of Castoriadis's work, but will also provide a comprehensive overview beneficial for those with intermediate knowledge of the material. All suggested readings will be provided upon enrolment.
Lecture 1. a militant revolutionary: intellectual biography, critique of Marx and Marxism
Suggested readings;
Castoriadis C., 2010, 'Why I Am No Longer a Marxist', A Society Adrift: Interviews and Debates 1974-1997, trans. Helen Arnold, Fordham University Press
Castoriadis C., 1987, 'The Two Elements of Marxism and their Historical Fate' & 'The Philosophical Foundation of the Decay', The Imaginary Institution of Society, trans. Kathleen Blamey, Polity Press (pp. 56-70)
Lecture 2. the imaginary institution of society: imagination, phenomenology, psychoanalysis
Suggested readings;
Castoriadis, C., 1997, 'The Imaginary: Creation in the Social-Historical Domain', World in Fragments: Writings on Politics, Society, Psychoanalysis, and the Imagination, trans. David A. Curtis, Stanford University Press
Castoriadis, C., 2007, 'The Social-Historical: Mode of Being, Problems of Knowledge', Figures of the Thinkable, trans. Helen Arnold, Stanford University Press
Castoriadis C., 1987, 'Social Imaginary Significations' [chapter 7], The Imaginary Institution of Society, trans. Kathleen Blamey, Polity Press (pp. 340-373)
Lecture 3. historicity, ancient and modern: social-historical power, political anthropology, European modernity and its ancient Athenian legacy
Suggested readings;
Castoriadis, C., 1991, 'Power, Politics, Autonomy', Philosophy, Politics, Autonomy: Essays in Political Philosophy, trans. David A. Curtis, Oxford University Press
Castoriadis, C., 1997, 'The Greek and Modern Political Imaginary', World in Fragments: Writings on Politics, Society, Psychoanalysis, and the Imagination, trans. David A. Curtis, Stanford University Press
Lecture 4. poiesis and heteronomy: autopoiesis, religion, cultural creativity
Suggested readings;
Castoriadis, C., 1997, 'The State of the Subject Today', World in Fragments: Writings on Politics, Society, Psychoanalysis, and the Imagination, trans. David A. Curtis, Stanford University Press
Castoriadis, C., 1997, 'Institution of Society and Religion', World in Fragments: Writings on Politics, Society, Psychoanalysis, and the Imagination, trans. David A. Curtis, Stanford University Press
Lecture 5. the project of autonomy: liberal oligarchies, rational-mastery, critiques of technoscience, institutional proceduralism and political representation
Suggested readings;
Castoriadis, C., 1991, 'Reflections on "Rationality" and "Development"', Philosophy, Politics, Autonomy: Essays in Political Philosophy, trans. David A. Curtis, Oxford University Press
Castoriadis, C., 1992, 'The Retreat from Autonomy: Post-Modernism as Generalized Conformism', Thesis Eleven No.31, MIT
Castoriadis, C., 2011, 'No God, No Caesar, No Tribune!...', Postscript on Insignificance: Dialogues with Cornelius Castoriadis, trans. Gabriel Rockhill and John V. Garner, Continuum
---
Plato and the Philosophy of the Unsayable: Discovering the radical Plato that Analytic Philosophy can never know
Lecturer: Bernard Lewin
Schedule: 6.30-8.30pm. 5 Thurdays starting Jan 16
Location: CAN, 180 Palmerston St, Carlton.
Course Aim
An invitation to get inside the extreme idealism of Plato
Course Overview
This is an introduction to Plato through selected readings from his dialogues. While no prior knowledge is required, the coverage of core themes is more than sufficient preparation for advanced and specialised courses. However, the Plato revealed here is a different character to the Plato introduced in Analytic schools. There, Plato is often presented and read as the founder of rationalism. But Plato railed against those who saw reason as the arbiter of truth. For Plato, truth is beyond what is sayable and only attainable through the powers of insight. Our first steps along his 'mystical way' are lit by elementary mathematical thinking. Once we begin to see how Platonic idealism is possible, the dialogues opens up to reveal a more powerful and masterful offering.
Course Suitability and Level of Difficulty
This course will suit those motivated by unresolved questions around what it is to know. No difficulties should arise due to unfamiliarity with the contemporary debate. On the contrary, those immersed in this debate may have difficulty letting go of some of its preconceptions so that Platonism might appear any less than absurd. The shift from linguistic to mathematics foundations requires no mathematical sophistication. This shift is entirely conceptual. It extends little beyond consideration of how the form of word/meaning, or the form of signifier/signified, might differ from the way that two things expressing the number two.
Course Outline
The course begins by showing just how difficult it is to come to the Platonic vision from our post-Enlightenment milieu. We travel back through the triumph of linguistic philosophy to the Enlightenment, and all the way back to Aristotle's modification of Academic doctrine. Engagement with Plato can only begin after a ruthless retrospective application of Socratic scepticism to linguistically framed philosophy. Not that our criticism of its compulsion to ground reality in unknowable external objects makes Plato's internal objects – his so-called 'Forms' – any more credible.
The best approach to this extreme anti-materialism is found through introducing the 'Pythagorean Plato', where elementary mathematic entities exemplify the relationship of insensible Forms to sensible experience. After that, we take another deep dive into scepticism, twisting through the labyrinth of contradictions that is Plato's Parmenides. On the other side of this gruelling dialogue we are not entirely ruined, and yet perhaps not entirely convinced that all is resolved by the supposed being of not-being or by Plato's mystical same/other unity self-differentiating through alternation. But at least we have glimpsed the possibility of Platonism mathematical mysticism and rediscovered its profound influence not only on Western culture and religion but also on the development of the modern mathematical sciences.
Week 1 Introduction: the Triumph of Analytic Philosophy
Our journey back to Plato begins with Russell's incredulity to Wittgenstein's philosophy of the unsayable during the dying days of the 'Foundations of Mathematics' controversy.
Readings:
Russell B. 'Introduction' in Tractatus Logico-Philosophicus by L. Wittgenstein, London: Kegan Paul; 1922.
Russell B. 'Mysticism and Logic' in Mysticism and Logic and Other Essays p. 9-37, London: Penguin Books; 1953.
Poincaré H. 'The Last Efforts of the Logisticians' in Science and Method p. 177-96, London: Thomas Nelson; 1914.
Week 2 Socratic Scepticism and Platonic insight
Socratic scepticism clears a way to consider that reality might be constructed from insensible, unprovable and ultimately ineffable 'Forms'. We finish by reflecting on how Plato's persuasive 'dialectic' mode of exposition suddenly cuts to fantastic narrative when key concepts are introduced.
Readings:
Plato. Apology p. 20c – 24a
(find this in Last Days of Socrates, Penguin Classics, or in various other editions and collections)
Plato. Republic p. 471c – 521a
Plato. Ion p. 530 – 36d
Aristotle. Prior Analytics (in Organon) p. 24 – 27
Week 3 The Pythagorean Plato
Our discussion of mathematical passages begins with the doctrine of knowing-as-remembering exemplified by the doubling of the square. The philosophical importance of ratio (logos) and proportion (ana-logia) is drawn out before finally wondering at the Republic's 'Divided Line', a geometric mandala to the Form of Forms.
Readings:
Plato. Memo p. 79a – 86b
Plato. Republic p. 521– 41
Week 4 Opposites and Alternation
This week we consider the various binary oppositions that keep appearing throughout the dialogues. Our survey finishes with the contradictions of being/non-being in Parmenides and their resolution in the Sophist.
Readings:
Plato. Pheado p. 60 – 105
Plato. Sophist p. 218b – 221c
Plato. Parmenides p. 126 – 143a
Plato. Sophist p. 237 – 260b
Week 5 From Plato to Platonism
Aristotle's famous account of esoteric mathematical philosophy links our 'Pythagorean Plato' to the Monad and Logos/Dyad emanationism of Hellenistic Platonism. The course closes by considering the extent to which our reading of the dialogues provide a workable vision of Plato's extreme idealism.
Readings:
Aristotle. Metaphysics p. 985b24 – 988a18
Proclus. The Elements of Theology Translated by E R Dodds, Oxford, Oxford, 1963 (2nd Ed). Read from Prop. 1 to Prop. 21.
---
Mythos and Logos: An Introduction to Philosophical Approaches to Myth
Lecturer: Dr James Kent
Schedule: 6.30-8.30pm. 5 Fridays starting Jan 17
Location: CAN, 180 Palmerston St, Carlton.
The history of western philosophy has been marked by a grappling with the concept of 'myth' since Plato made use of the abstract noun mythologia. As the scholar Kathryn Morgan has argued, the familiar binary distinction that is often invoked between mythos and logos, is "a function of the rise of philosophical self-consciousness." The aim of this course is to offer an overview of some of the notable philosophers that dealt with the 'problem' of myth: the early modern Italian thinker Giambattista Vico, the Frankfurt School scholars Max Horkheimer, Theodor Adorno and Walter Benjamin, and finally the German post-war thinker, Hans Blumenberg.
The intention is not to trace an explicit genealogical think between these philosophers (although many do owe intellectual debts to each other). Rather, the goal is to examine the different ways in which these thinkers approached the ways myth shapes our history, and our capacity to be rational. These thinkers articulate heterogenous uses of the concept 'myth'. If there is one point of affinity between them, however, it is their interest in how a renewed problematisation of myth leads to a reappraisal of how our past histories inform our agency as moral creatures. Naturally, given their different views on 'myth', there emerges a correspondingly different view of 'the past' and how it interacts with the present. As I will show, their respective discussions of myth draw out important implications for what it means to be a rational agent living in a particular historical moment.
The course is aimed at an advanced undergraduate, or postgraduate level. Many of the texts covered are demanding and will require a reasonable degree of commitment. Although some familiarity with the continental tradition would be helpful, no formal philosophical training is necessary. Seminars will be organised around a lecture (about one hour and fifteen minutes, depending on the topic) followed by guided discussion over the intricacies of each text.
Week One: Mûthos and Mythologia: Greek Conceptions of Myth
The first week will offer an overview of the development of the concept of myth in Ancient Greece, from the Homeric use of the term mûthos, meaning "true narration", to Plato's use of the abstract noun mythologia. The intention is to offer a broad introduction to the beginnings of the Western notion of 'myth', in order to contextualise the concepts, texts and thinkers of subsequent weeks.
The focus will be on excerpts from Homer and Plato in order to highlight the transition of 'myth' from a broad, all encompassing form of efficacious, authoritative speech act, to something with a largely abstract, pejorative association. As is so often argued in traditional stories of historical progress, this transition was not merely an intellectual one, but a reflection of material changes in Greek culture, and socio-political life. This seminar will highlight some of those changes and draw attention to how these changing attitudes coloured Western philosophy's subsequent understanding of myth.
Due to the fragmented nature of the excerpts of Homer and Plato, some context will be lost. Take your time with these readings, we will go over them in more detail in the class. (Please note that the secondary readings are particularly relevant for this week, but we will go through some of the major themes in the lecture too).
Reading: Homer, The Odyssey, Book Nine (trans. Emily Wilson
Plato, Republic, Book II, 376c -383c, 611b-621d
Secondary Reading: Kathryn Morgan, "Theoretical Issues," Myth and Philosophy from the Presocratics to Plato (Cambridge: Cambridge Univeristy Press, 2000), 15-45
Adam Nicolson, The Mighty Dead: Why Homer Matters (London: William Collins, 2014), 54-67.
Week Two: Frailty and Divine Providence: Vico's Scienza Nuova
The second week will offer an overview of Giambattista's Vico's theory of myth, focusing in particular on his magnum opus, the Scienza Nuova (The New Science), an often overlooked classic of the early-modern period. Instead of the singular rationalising ego that discerns clear and distinct ideas that Descartes describes, Vico depicts truth and meaning as emerging out of humanity's communal, socio-cultural practices. At the root of these practices is myth. Vico's theory of myth can be divided into two parts; an aesthetic, and a historical dimension. The aesthetic part refers to Vico' argument that myth is a reflection of an imaginative, poetic faculty that emerged in human life before reason. The historical dimension argues that its primary role as a mediator of human experience, leaves traces in history that subsequently contribute to myths remaining of value to a socio-cultural community.
Because Vico considered myth to offer an historical iteration of reason's limitations and fallibility, he considered it philosophy's role to find a 'way out' of those historically conditioned limitations, a case of uncovering the presence of 'divine providence' in the world. This involved recognising both "the boundaries of human reason [and the fact that] transgressing them means abandoning our humanity." These ideas remain of interest because at their core is the argument that the ongoing 'life' of myth shows that the past is not something that is bypassed, but always 'present' in the present. For Vico, an engagement with myth on those terms makes up the primary work of philosophy.
Reading: Giambattista Vico, "Idea of the Work," "Poetic Metaphysics," in The New Science (trans. David Marsh), 1-29; 144-156.
Secondary Reading: Joseph Mali, "The Vico Road", Mythistory: The Making of a Modern Historiography" (Chicago: University of Chicago Press, 2003), 61-84.
Week Three: Walter Benjamin on Myth and Storytelling
The third week will discuss Benjamin's conception of myth and compare it to his discussion of storytelling. The main texts discussed will be his essay Critique of Violence (1921) and The Storyteller (1936). For Benjamin, the 'violence' of myth is something that "bursts" into human life "from the ambiguous sphere of fate." In contradistinction, storytelling refers to the exchange of human experiences deposited in the oral traditions left to history, a domain in which the "exchange [of] experience" could temper the often terrifying presence of fate in earthly life. Benjamin insists that the capacity to tell stories is, "the securest among our possessions", embodying the most powerful disenchantment of "the nightmare which myth had placed upon [humankind's] chest."
In this lecture, I propose that a way to conceive of the relation between 'myth' and 'storytelling' in Benjamin's corpus can be grounded in his theory of language, specifically its mimetic origins. Benjamin's account of mimesis can be understood as an attempt to outline the ways in which the original matrixes of relations that were established between the body and the world (i.e. forms of experience), were deposited in language, and therefore continue to mediate meaning in linguistic exchange. I will suggest that comparing these two categories help distinguish more precisely what Benjamin meant when he deployed the term 'myth' and, further, how he understood the ways in which humans seek to liberate themselves from it via the telling of stories.
Reading: Walter Benjamin, Selected Writings: Volume 1, "Critique of Violence", trans. Edmund Jephcott, 236-252
Selected Writings: Volume 3, "The Storyteller: Observations on the Works of Nikolai Leskov", trans. Harry Zohn, 143-166.
Secondary Reading: Gary Smith (ed), "Walter Benjamin's Theory of Myth," in On Walter Benjamin: Critical Essays and Recollections (Cambridge, MA: MIT Press, 1988), 292-328.
Week Four: The Dialectic of Enlightenment: Horkheimer and Adorno on Myth and Rationality.
The fourth week will discuss Horkheimer and Adorno's now famous argument regarding the dialectic of enlightenment by focusing on their treatment of myth. I suggest that the arguments regarding myth in Dialectic of Enlightenment can be divided into two not entirely reconcilable parts. The first approaches myth allegorically, as an insight into the emergence of human subjectivity. The second deals with Horkheimer and Adorno's recognition that myth provides fragmented historical insights into real forms of life that past humans were deeply attached to, and which they abandoned only with great reluctance.
This latter perspective on myth allows us to the see the historically determined ways in which myth (and thus reason) came to be entwined into socio-cultural systems of domination. This also highlights the extent to which myth reflects momentary glimpses of other forms of human life, that were extinguished in the passage of time. My contention is that the authors offer an understanding of myth, not just as a reflection of domination, but also a locus in which humans come to engage with both the disasters and irretrievable possibilities of their pasts as a source of rational, and therefore moral, engagement.
Reading: Max Horkheimer, Theodor Adorno, "The Concept of Enlightenment" and "Excursus I: Odysseus or Myth and Enlightenment," in Dialectic of Enlightenment, trans. Edmund Jephcott, 1-62.
Secondary Reading: Lewis, Pericles. "The 'True' Homer: Myth and Enlightenment in Vico, Horkheimer and Adorno." New Vico Studies 10 (1992): 24-35.
Week Five: Hans Blumenberg and the Work of/on Myth.
The fifth week will centre around Hans Blumenberg's discussion of myth in his Work on Myth. While the other thinkers discussed in this course understood that myth was not simply a manifestation of straightforward irrationalism, this did not preclude their approach to myth being structured around a liberation from it. Hans Blumenberg, however, can typically be read as either explicitly resistant, or at best ambivalent, to framing myth in this manner. Blumenberg's fundamental claim regarding myth is that it is created to alleviate anxiety (Angst). He speculates that early hominid creatures, maladapted to the rigours of life on the savannah, were overcome by the totalising effect of an "indefinite anticipation", or anxiety. Blumenberg calls the initial situation that had to be overcome the "absolutism of reality" (Absolutismus der Wirklichkeit).
Blumenberg's suggestion is that a model that posits myth as a form of relief from anxiety must acknowledge that it succeeds, therefore, in establishing a form of leisure that allows for more complex forms of reflection. What this implies is that the 'end' of myth, wherein we are liberated from its grasp by reason, is in itself a fundamentally mythic image and desire. Ultimately, for Blumenberg, a critique of myth was not focused on a question of how to liberate ourselves from it. Rather, it attempted to recognise the ways in which the intellectual and political hopes of liberation and enlightenment were in themselves predicated on, and conditioned by, the history of mythic images that have been conjured by human beings in the passage of history.
Reading: Hans Blumenberg, "After the Absolutism of Reality", "To Bring to an End, If Not Myth, Then at Least One Myth," Work on Myth, trans. Robert M. Wallace, 3-32; 627-637.
Secondary Reading: Robert M. Wallace, "Translator's Introduction" to Work on Myth, vii-xxxvi.
---
Sartre's Critique: The Dialectical Logic of Existential Marxism
Lecturer: Austin Hayden Smidt
Schedule: 10.30am-12.30pm. 17-21 Feb
Location: CAN, 180 Palmerston St, Carlton.
Jean-Paul Sartre's Critique of Dialectical Reason (CDR) is often overlooked as a valuable text of post-Marxist political philosophy. This series of seminars will seek to correct this by introducing the central concepts in CDR and by indicating the text's relevance for both present and future socio-political concerns. Particular attention will be paid to the relationship between freedom and determinism, the formation of political groups out from stale and mimetic social environments, and how we might be able to use our imaginations to create society and ourselves as works of art.
This series will consist of a close-reading of CDR from within a fresh frame of interpretation. We will explore how CDR is a work of existential, dialectical logic. That is, it is a text primarily concerned with humanity's inability to comprehend itself accurately and adequately under the serial pressures imposed by this particular historical timeline. Only when an Event breaks the stranglehold of this historical seriality can the seeds of true humanity begin to flower.
Seminar readings will be excerpts taken from Critique of Dialectical Reason, Vol. One, and from Sartre, Imagination, and Dialectical Reason: Creating Society as a Work of Art (Rowman and Littlefield International). Electronic copies of the excerpts will be provided in advance of the start of the course.
Lecture 1: Analytic v. Dialectical Reason
The first seminar will address Sartre's criticism of analytical reason and its encroachment into Marxism in the form of "positivism." The stakes of this error will be drawn as we then tack towards an elaboration of dialectical reason and Sartre's defense of why and how dialectical reason must found itself as both method and movement so that Marxism might be able to (perhaps for the first time) "speak the truth."
Reading:
Excerpts from CDR (Vol 1), Introduction
Excerpts from Sartre, Imagination, and Dialectical Reason, Chapter 1
Lecture 2: The Logic of Matter/Practico-Inert
Seminar two will explore the mediatory conditions of the (in)human predicament by examining Sartre's revised considerations on the thrownness of the (in)human.
Reading:
Excerpts from CDR (Vol 1), Book 1
Excerpts from Sartre, Imagination, and Dialectical Reason, Chapters 2 and 3.
Lecture 3: The Logic of Seriality
Seminar three will examine the serial effects of mediated sociality in a field of practico-inert objects. Seriality must be understood as diachronic, synchronic, and Kairotic. This latter term brings the former two together and designates that it is always the opportune moment to revolt against serially alienating conditions.
Reading:
Excerpts from CDR (Vol 1), Book 1
Excerpts from Sartre, Imagination, and Dialectical Reason, Chapter 4
Lecture 4: The Logic of Freedom
Seminar four will explore how and in what ways the "apocalypse" (as Event) tears a hole in our serial conditions. This is the moment of rupture that makes human constitution possible from out of the inhuman predicament of serial existence.
Reading:
Excerpts from CDR (Vol 1), Book 2
Excerpts from Sartre, Imagination, and Dialectical Reason, Chapter 5
Lecture 5: The Imaginative Logic of Action
The final seminar will be a bit more speculative, exploring how and in what ways the imagination can be freed from serial entrapment in order to aid free subjects in the perpetual dialectical process of creating society as a work of art by transforming themselves through transforming their world (and vice versa).
Reading:
Excerpts from Sartre, Imagination, and Dialectical Reason, Chapters 6-8
---
The Ambiguous Ethics and Politics of Simone de Beauvoir
Lecturer: Sameema Zahra
Schedule: 1pm-3pm. 17-21 Feb
Location: CAN, 180 Palmerston St, Carlton.
Course overview
This unit offers a detailed study of Simone de Beauvoir's work on inter-subjectivity and outlines its underlying assumptions, arguments and claims. It begins with the existential phenomenology offered in The Second Sex. In the first three lectures the students focus on the category of the one and the other vis-a-vis man-woman relationship. It engages with questions such as what it means to be One and Other? Whether these categories ever become fixed? How oppression reduces the oppressed to the category of the absolute other? How far this relationship can be called authentic? In the last two lectures, students focus on Beauvoir's ethical and political ideas and how her politics is grounded in her ethics. This section focuses on questions such as, whether reciprocal authentic relations are possible? Does authenticity require universal benevolence? Here the question of violence and its legitimacy becomes very crucial. In this section the focus will be on Beauvoir's earlier philosophical writings as well as some of her political pieces however the ideas developed in the reading of The Second Sex during the first three lectures work as the foil for this section.
Readings
I have included two kinds of reading for each lecture. As the headings suggest I expect the students to be familiar with the text under the required readings and encourage them to read the recommended ones. Both the required and the recommended readings are in the order of importance so if students decide to read selectively the readings higher in order will be more relevant to the lecture. I have also included a list of further readings for those who are interested in pursuing Beauvoir's work further.
Lecture-1
This lecture aims to establish the overall structure of the course. The key concepts and the central tenets of Beauvoir's philosophy will be explored.
Objectives
To understand the existential phenomenological framework of Beauvoir's philosophy.
The meaning of transcendence and immanence and its role in subjectivity.
The role of Freedom.
Required Readings
Beauvoir, Simone de. 2011. "Introduction" The Second Sex. Translated by Constance Borde and Sheila Malovany-Chevallier. New York: Alfred A. Knopf.
Beauvoir, Simone de. 2018."Ambiguity and Freedom" The Ethics of Ambiguity. Translated by B Frechtman. New York: Philosophical Library.
Recommended Readings
Le Doeuff, Michèle. "Simone De Beauvoir and Existentialism." Feminist Studies 6, no. 2 (1980): 277-89.
Lecture- 2
Building on the first lecture, the existential subject's relation with the world and other will be explored here. We will examine the structures of oppressive relations by engaging with the nature of man-woman relationship in patriarchy.
Objectives
To understand what it means to be an absolute other.
Why oppression is inauthentic
The role of Ambiguity
Required Readings
The Second Sex "Myths" (Selection- Chapter 1, First nine pages)
Heinamaa, Sara. "Chapter 6" Toward a Phenomenology of Sexual Difference: Husserl, Merleau-Ponty, Beauvoir. Lanham, Md. ; Oxford: Rowman & Littlefield, 2003.
Recommended Readings
The Ethics of Ambiguity " Personal Freedom and Others"
Arp, Kristina. 2001. "Chapter 4" The Bonds of Freedom: Simone De Beauvoir's Existentialist Ethics. Chicago : Open Court ; Berkeley,CA. : Distributed by Publishers Group West
Lecture- 3
This lecture engages with the role of struggle and conflict in the inter-subjective world. The discussion of woman's oppression leads to the question whether Beauvoir argues that woman becomes the inessential other because she fails to challenge man and claim her autonomy? The discussion will centre on the tensions in the self-other relations and whether these tensions can be resolved.
Objectives
Discussing Hegel's influence on Beauvoir
The Ambiguities of the inter-subjective world
The possibility of reciprocal relations
Required Readings
The Second Sex, "History" Chapter 1
Sara Heinämaa, Towards a Phenomenology of Sexual Difference, Chapter 5
Recommended Readings
Daigle, Christine, "The Second Sex as Appeal: The Ethical Dimension of Ambiguity." PhiloSOPHIA 4, no. 2 (2014): 197-220.
Green, Karen, and Nicholas Roffey. "Women, Hegel, and Recognition in The Second Sex." Hypatia 25, no. 2 (2010): 376-93.
Boni, Tanella. "Why Is Woman the Other?" In A Companion to Simone De Beauvoir, edited by Laura Hengehold and Nancy Bauer, 174-84. Chichester, UK: John Wiley & Sons, 2017.
Lecture-4
In this lecture we start moving towards Beauvoir's politics and examine its relation to her ethics. The discussion focuses on action and whether there are any absolute final ends that justify or give legitimacy to actions.
Objectives
Examining the grounds for justification of action.
The inauthenticity of evading Responsibility
Required Readings
Beauvoir, Simone de. "Pyrrhus and Cineas" (Part 1 (Selection- Candide's Garden), Part 2) Philosophical Writings. edited by M A Simons, M Timmermann and M B Mader. Urbana: University of Illinois Press, 2004.
Recommended Readings
Arp, Kristina. ""Pyrrhus and Cineas"." In A Companion to Simone De Beauvoir, edited by Laura Hengehold and Nancy Bauer, 271-85. Chichester, UK: John Wiley & Sons, 2017.
Debra Bergoffen, Introduction to "Pyrrhus and Cineas" in Philosophical Writings. edited by M A Simons, M Timmermann and M B Mader. Urbana: University of Illinois Press, 2004.
Bergoffen, Debra. Chapter 2 The Philosophy of Simone De Beauvoir : Gendered Phenomenologies, Erotic Generosities. SUNY Series, Feminist Philosophy. Albany, 1997.
Lecture – 5
In the final lecture we engage with the ambiguous ethics and politics of Simone de Beauvoir. We ask what kind of political action she endorses by examining the relationship between her politics and her ethics.
Objectives
To question-
Whether she makes universal benevolence the aim of her political endeavours?
Where she places violence in this structure?
What is one's true relationship with the other?
Required Readings
The Ethics of Ambiguity "The Positive Aspect of Ambiguity" (especially sub-section 3,4 and 5)
Beauvoir, Simone de. "An Eye for an Eye" Philosophical Writings. edited by M A Simons, M Timmermann and M B Mader. Urbana: University of Illinois Press, 2004.
Recommended Readings
Marso, Lori J 2017 'Simone de Beauvoir on Violence and Politics' In A Companion to Simone De Beauvoir edited by Laura Hengehold and Nancy Bauer, 299-310. Chichester, UK: John Wiley & Sons.
Murphy, Ann V. ""Violence Is Not an Evil" Ambiguity and Violence in Simone De Beauvoir's Early Philosophical Writings." PhiloSOPHIA: A Journal of Continental Feminism 1, no. 1 (2011): 29-44.
Further Readings
Altman, M. 2007. "Beauvoir, Hegel, War." Hypatia, 22 (3): 66-91.
Bauer, N. 2001, Simone de Beauvoir, Philosophy and Feminism. Columbia University Press, New York.
Beauvoir, Simone De. 1962. "Introduction". Djamila Boupacha : The Story of the Torture of a Young Algerian Girl Which Shocked Liberal French Opinion. Written by Simone de Beauvoir and Gisèle. Halimi. London: Deutsch and Weidenfeld and Nicolson.
Bergoffen, D B. 2001. 'Between the Ethical and the Political: The Difference of Ambiguity'. In The Existential Phenomenology of Simone de Beauvoir. Contributions to Phenomenology. eidted by Wendy O'Brien and Lester Embree, 187-203. Dordrecht: Springer Netherlands.
Hutchings, K. 2007. "Simone De Beauvoir and the Ambiguous Ethics of Political Violence." Hypatia 22, no. 3: 111-32.
Kruks, Sonia. 1987. "Simone De Beauvoir and the Limits to Freedom." Social Text, no. 17 : 111-22.
⎯⎯⎯. 2012. Simone de Beauvoir and the Politics of Ambiguity. New York: Oxford University Press.
Landry, Christinia and Christine Daigle. "An Analysis of Sartre's and Beauvoir's Views on Transcendence: Exploring Intersubjective Relations." PhaenEx 8, no. 1 (2013): 91.
Langer, Monika. 2003. "Beauvoir and Merleau-Ponty on Ambiguity" in The Cambridge Companion to Simone De Beauvoir. edited by Claudia Card 87-106. Cambridge, U.K.; New York: Cambridge University Press.
Marso, Lori Jo. 2017. Politics with Beauvoir: Freedom in the Encounter. Durham: Duke University Press.
Murphy, Ann V. "Between Generosity and Violence: Towards a Revolutionary Politics in The Philosophy of Simone de Beauvoir" in The Philosophy of Simone de Beauvoir edited by Margaret Simons, 262-275.
Shelby, Karen. " Beuavoir and Ethical Responsibilities" in Simone de Beauvoir's Political Thinking, edited by Lori Jo Marso and Patricia Moynagh, 93-108.
---
A philosopher, a painter and a poet walked into a pub... Part 2: Further conversations in thinking poetically
Lecturer: Dr Rachel Joy
Schedule: 3.30pm-5.30pm. 17-21 Feb
Location: CAN, 180 Palmerston St, Carlton.
While philosophy has its own forms and means of expression, continental philosophy has, nevertheless, deeply shared concerns with those who make art. Among other things, these interests revolve around concepts of value, space, suffering, the nature of play and the possibility of transformation in the face of doubt, and even failure. Many poets, artists and philosophers are directly influenced by or responding to each other's work as if in a conversation. This course examines some of these relationships and some of the philosophical and artistic works they produced. The lectures will continue with the same approach to philosophical explorations as was employed in the winter school version, but the content is entirely new and there is no need to have completed the winter school to enjoy the summer school course.
Over the five sessions we will encounter the following:
Session 1. Nordic Noir: Friedrich Nietzsche's aesthetics and the paintings of Edvard Munch and Auguste Strindberg. For Nietzsche, suffering is the ground of our existence, yet for him this should not be reason for pessimism but rather an affirmation of life.
Session 2. Art and value: How do we measure the value of art? Where does the value lie? This week we boggle at the art market and a $120,000.00 banana with Marx and Maurizio Cattelan.
Session 3. Bergson's challenge: Music is better than painting or poetry. Composers Erik Satie and Schoenberg face off against Matisse, Brancusi, Picasso as we unravel Bergson's aesthetics.
Session 4. It's 'playtime' with Hans-Georg Gadamer and Giorgio Agamben as we explore their essays on the importance of play in human life and consider the place of play in the art practice of Cy Twombly.
Session 5. This week it's time to climb into the attic or wedge yourself under the stairs in the name of thinking and art, as we place Bachelard's The Poetics of Space alongside Foucault's Heterotopia to explore their impacts on the sculpture of Rachel Whiteread, Richard Serra and Eduardo Chilleda.
---
Deleuze and Guattari's Anti-Oedipus -

Attendance Enrolment Sold Out
Lecturer: Dr Jon Roffe
Schedule: 6-8pm. 17-21 Feb
Location: CAN, 180 Palmerston St, Carlton.
This course will present a detailed examination of Gilles Deleuze and Félix Guattari's Anti-Oedipus: Capitalism and Schizophrenia volume 1. Without wanting to rinse off any of the infamy the book attracted and continues to attract, the goal will be to present as clearly as possible the major lines of argument that the authors are making, which rest on a compelling social theory and a concomitant socio-historical framing of the project of Freudian psychoanalysis.
Monday: social-production, desiring-production, and the paralogisms of psychoanalysis
The main heuristic claim that this course will advance is that Anti-Oedipus is organised in such a way to invite a basic confusion about the status of its argument. In this first lecture, we will examine the three broad analytic perspectives considered in the book – social-production, desiring-production, and psychoanalysis – in order to grasp the proper form of their interrelation. To do so, we will need to discover why Deleuze will call the book 'a Critique of Pure Reason for the unconscious'.
Tuesday: The three syntheses of desire and the pre-State formation
The second lecture will be given over to a concrete demonstration of what was argued in the first lecture. More specifically, the goal will be to discuss the status of desiring-production in relation to the first of three social formations: 'primitive' or pre-State society.
Wednesday: Social production in the State and capitalism
The second (State) and third (capitalist) social formations will be our concern in the third class. We will pay particular attention to the difference between the forms of subjectivity generated in the two formations, and the concomitant status of the incest prohibition. The ultimate goal here will be to outline the socio-genetic conditions under which the Oedipal family unit could have arisen.
Thursday: An immanent critique of psychoanalysis
With the full account of social production in place, Deleuze and Guattari's immanent critique of psychoanalysis comes into focus. In this lecture, we will consider the psychoanalytic themes of lack, and the Oedipus complex in order to see why Guattari would come to declare that 'psychoanalysis is the best capitalist drug'.
Friday. A schizoanalytic politics? Conclusion
In the last class, we will turn our attention to the final chapter of the book, which presents a second, synthetic account of social formation, and the concomitant means we have to interrupt social production. The course will close by considering why Deleuze will later call Anti-Oedipus 'a failure', and declare that 'Oedipus has become our albatross'.
Readings: Extracts from Anti-Oedipus. A reading schedule will be provided before the classes begin, along with a PDF of the book.